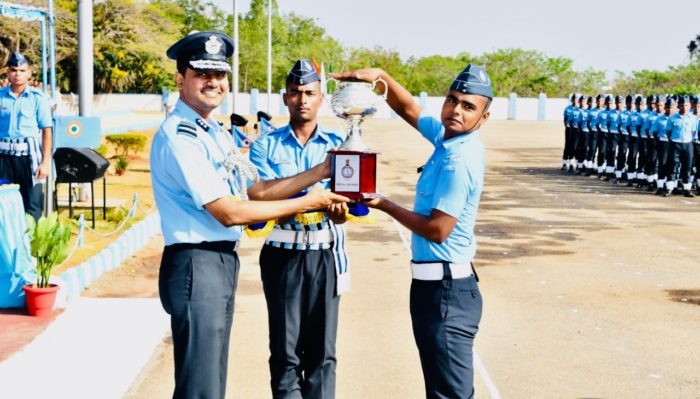 On the occasion of passing out of 1259 Ab-initio trainees and 22 trainees of Friendly Foreign Countries, an impressive valedictory function was held at Air Force Station Jalahalli in Bengaluru on Thursday.
Air Vice Marshal S Anandan, Commandant, Software Development Institute, Air Force, Bangalore presided over the function.
The 64 weeks training programme at Air Force  Station Jalahalli has been designed to equip the trainees for future warfare through e-learning and practical training. 
The Chief Guest presented  various trophies to the trainees who were assessed during the course of training. 
The Best in Trade was presented to Leading Aircraftsman Anklesh for Communication Technician Trade, Leading Aircraftsman Rahul Kumar Sah for Electronics Fitter Trade, Leading Aircraftsman Brijkishor for Operations Assistant (Air Defence) Trade, Leading Aircraftsman Atul Kumar Pal for Operations Assistant (Air Traffic Services) Trade, Leading Aircraftsman Gaurav Kumar for Electrical Fitter (R) Ground Trade and Leading Aircraftsman Rahul Kumar Verma for Electrical Fitter (R) Aviation Trade. 
Leading Aircraftsman Brijkishor secured the Best All Rounder Trophy.
The Chief Guest congratulated all the passing out trainees and felicitated promising trainees who had performed well in different fields. 
He emphasised that the country has reposed enormous trust in each one of them to guard the Air Frontier of the Nation and reiterated the need to utilize this training in pursuance of excellence in their respective fields to achieve professional goals.