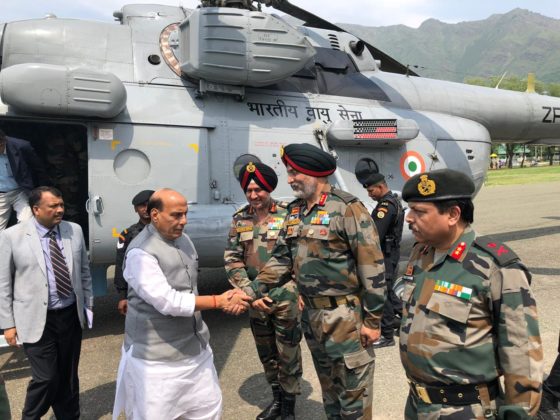 A day after assuming charge of his ministry at South Block, Defence Minister Rajnath Singh spent his first working day interacting with troops posted at Siachen Glaciers and Srinagar in Jammu and Kashmir.
Mr Singh was accompanied by Army Chief Gen Bipin Rawat and Northern Army Command General Officer Commander Lt Gen Ranbir Singh to the glaciers.
Appreciating the soldiers who are serving at the world's highest battlefield, the defence minister said, "I am proud of all Army personnel serving in Siachen who are leaving no stone unturned to defend our motherland."
He also appreciated the parents of troops and said, "I am also proud of their parents who have sent their children to serve the Nation by joining the Armed Forces. I will personally send a Thank You note to them."
Further, the minister also vowed to take all concerns while taking any decisions at the centre pertaining to national security.
"After taking over the charge,  @DefenceMinIndia spends the first working day with troops in Siachen. Moved by the motivation & dedication of the troops deployed in Siachen, RM pledges to keep the concern of the troops in the centre of all decisions related to National Security," the defence ministry spokesperson said in a tweet.
Mr Singh also paid tributes to fallen soldiers at Siachen War Memorial.
Later in the day, he visited Badami Bagh-based 15 Corps HeadQuarters in Srinagar to take stock of overall security situation in the Kashmir valley.
He was informed about the situation on the Line of Control (LoC) and the measures taken to prevent any infiltration from Pakistan Occupied Kashmir (POK).
Sources in the ministry said, he was also briefed about the recent encounters in the Kashmir valley, where over 100 militants, including some top commanders, were killed by security forces during the first five months of 2019.
However, over 50 security force personnel have also lost their lives in these encounters during the period.
Mr Singh has taken charge of his ministry of Saturday.