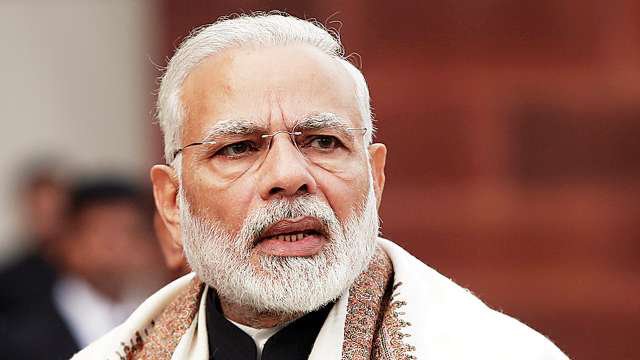 Condemning the attack carried out by Maoists on security personnel in Gadchiroli of Maharashtra in which 16 personnel lost their lives, Prime Minister Narendra Modi on Wednesday assured the nation that the perpetrators will not be spared.
In a tweet Mr Modi said, "Strongly condemn the despicable attack on our security personnel in Gadchiroli, Maharashtra. I salute all the brave personnel. Their sacrifices will never be forgotten. My thoughts & solidarity are with the bereaved families. The perpetrators of such violence will not be spared."
Sixteen security personnel and their driver were in Gadchiroli when a powerful explosion, set off by Maoists, blew up their vehicle. An improvised explosive device (IED) blast was triggered on the police vehicle in the Maoist-affected district of Maharashtra that borders Chhattisgarh.
The incident comes hours after Maoists torched 25 vehicles at a road construction site in Kurkheda of Gadchiroli district at around 3:30 am on Wednesday. Union Home Minister Rajnath Singh termed the act as of cowardice and desperation.
"Attack on Maharashtra Police personnel in Gadchiroli is an act of cowardice and desperation. We are extremely proud of the valour of our police personnel. Their supreme sacrifice while serving the nation will not go in vain. My deepest condolences to their families," Mr Singh said in a tweet.
The Home Minister spoke to Chief Minister Devendra Fadnavis and took stock of situation.
"Spoke to Maharashtra CM Shri @Dev_Fadnavis regarding the tragic incident in Gadchiroli and expressed my grief at the loss of brave Police personnel. We are providing all assistance needed by the state government. MHA is in constant touch with the state administration," he said in another tweet.
"Anguished to know that our 16 police personnel from Gadchiroli C-60 force got martyred in a cowardly attack by naxals today. My thoughts and prayers are with the martyrs' families. I'm in touch with DGP and Gadchiroli SP. #Gadchiroli," Mr Fadnavis said on micro-blogging site Twitter.
"I strongly condemn this attack and we will fight this menace with even more and stronger efforts. I also spoke to Hon Union Home Minister @rajnathsingh ji and briefed him about the situation in Maharashtra," he added.
Congress leader Randeep Singh Surjewala said, "Strongly condemn the attack on C-60 Commandos in Gadchiroli. My condolences to their families.Their sacrifice would not go in vain.390 Jawans have been martyred in Naxal attacks in past 5 years that expose hollow claims by Modi Govt of securing India."
Commerce Minister Suresh Prabhu said, "Very saddening about unfortunate attack by cowardly forces on security staff,engaged in promoting law and order,in which we lost some of our brave police personnel.We salute the martyrs.We  r fully with families of victims of despicable attack. #naxalattack Condolences Om Shanti."
Law Minister Ravi Shankar Prasad said in a tweet, "Deeply condemn the cowardly Naxal attack on security forces in #Gadchiroli. Naxals will never succeed in their evil plot to disturb India's democratic process by such acts."