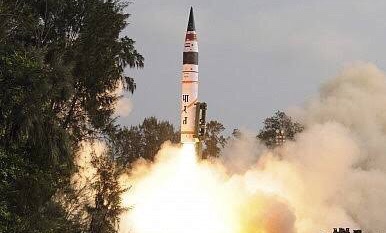 India has become a "space superpower" with the successful testing of an anti-satellite weapon under 'Mission Shakti', Prime Minister Narendra Modi announced on Wednesday.
In a special address to the nation, the PM said, "In the journey of every nation there are moments that bring utmost pride and have a historic impact on generations to come. One such moment is today. India has successfully tested the Anti-Satellite (ASAT) Missile. A short while ago, India has shot down an LEO satellite by anti-satellite missile. It was conducted under 'Mission Shakti', which was completed in three minutes."
Congratulating the scientists on the achievements, he said "'MissionShakti' was a highly complex one, conducted at extremely high speed with remarkable precision. It shows the remarkable dexterity of India's outstanding scientists and the success of our space programme.
Congratulations to everyone on the success of #MissionShakti."
The PM added India is the fourth nation after the US, Russia and China to achieve this.
The PM said that there could not be a prouder moment fir the people of the country.
"It is a proud moment for the country that this feat was achieved with an Anti satellite weapon manufactured in the country itself," the PM said.
"I congratulate all DRDO scientists and researchers associated with Mission Shakti. They have made the nation proud. We are proud of our scientists," the PM said. The PM assured that India would not misuse this capability.
PM Modi's address to the nation came hours after a meeting of the Cabinet Committee on Security.