By Sapna Singh
As a large part of the world continues to be engaged in the war against terror for nearly three decades, international experts on strategy and security have called for an 'organized' approach to fight state sponsored terrorism. They said terrorism was no longer confined to holding territories and armament but it has over the years assumed ideological shape and thus had become a bigger threat.
During a panel discussion "Amoebic , Asymmetric , Anarchic : Countering Terrorism" at the Raisina Dialogue, experts also noted that the influence of ISIS was reducing; yet there was a need for more concerted efforts on eliminating terror threats. They welcomed dialogues with terror outfits but warned against any pre-condition for doing so.
Hussain Haqqani, senior fellow and Director for South and Central Asia at the Hudson institute in USA, said, "Difference between pre-9/11 and post 9/11 terrorism is the change in the nature of fighting terrorism. "First it was a law enforcement approach to terrorism, now its a war-approach to terrorists".
Discussing about Jihad and caliphate, Haqqani said, "The new phase of jihad or Jihad 3.0 will see groups undermining democracy, instead of holding territory," adding holding territory made conventional warfare possible.
The Chief of Indian Army, General Bipin Rawat noted that India was still untouched by the ISIS but cautioned that there was need for keeping a close watch on social media activities pertaining to radicalisation of youth.
General Rawat added that in India massive radicalisation was not quite possible because of the closely knit family structure where youths are under constant watch of the parents.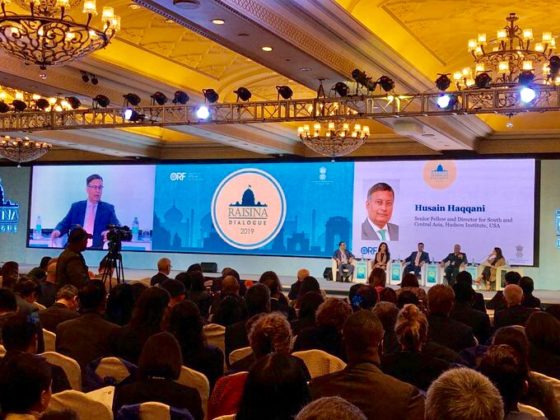 He also lauded the effective beat policing system in India saying the local beat police personnel kept a sharp eye on such activities.
General Rawat also took a dig at Pakistan, saying terrorism was a multi-headed monster that would exist as long as nations continued to sponsor it.
On talks with the Taliban, Rawat said any dialogue with the Islamist terrorist organisation should involve no conditions. Any concessions, he added, would give the other side the notion that they were talking from a position of strength and victory.
"There should be talks with Taliban so long as they don't come with pre-conditions and so long as they are looking at lasting peace in Afghanistan and bring about stability in that country," he said.
"It is in our interest, region's interest, and in Pakistan's interest. We all want stability," he added.
General Rawat said Pakistan, which helped organise a dialogue between the US and the Taliban in December, was rightly aiming for a favourable situation in Afghanistan, a neighbour with which it shares an over 2,400-km border.
"Pakistan has always treated Afghanistan as its backyard. They are concerned about it and, as a military leader, I would say why not be concerned about their backyard," he added. "They always want a situation in Afghanistan which is favourable to them. So, even if it implies speaking to the devil, they will do it."
Taking about global terrorism, Max Abrahms, Assistant Professor , Northeastern University, USA, said that over the years, the perception of terrorism has evolved. Washington has become more anti-Iran, than anti al-Qaeda.
Strategic affairs experts also raise their concern on ideology which is one of the many components driving radicalisation as they believe that fighters in terrorist groups have other economic, political and social factors that help them radicalise.
On the global war against terrorism, academics, thinkers discuss that the world has made tremendous progress against the Islamic State. "Today it is harder for the Islamic State to recruit people without a caliphate. Its loss of territory does not make it more popular to radicalised youth looking to fight," said Professor Abraham.
Mentioning about Taliban in pretext of United States, Haqqani said,"The Taliban psychologically has an upper hand. They know the US wants to leave Afghanistan, so the Taliban continues to disrespect the Kabul government, adding,"A settlement which makes the Taliban feel like they have won, will vindicate the idea that if a country sponsors terrorism they can be successful and it gives the Taliban the idea that all they have to do is hold on till the US leaves the country.