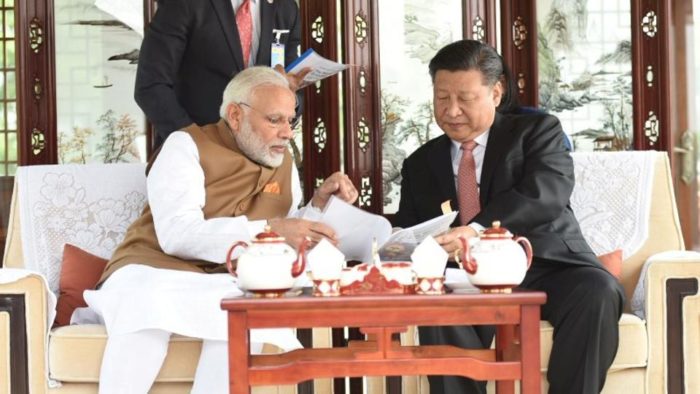 With Prime Minister Narendra Modi's recent high-octane meetings with President Xi Jinping of China from the Wuhan "informal" summit to Shanghai Cooperation Organization (SCO), India's focus on diplomacy seems to be shifting from the United States to China.
Recently, the India's ministry of external affairs (MEA) announced that both India and China will soon discuss maritime issues in bilateral talks, which will cover a range of issues. Last time, when such talks took place between the two countries, New Delhi and Beijing exchanged their own perspectives on maritime security, developments in international regimes, like United Nations Convention on the Law of Sea (UNCLOS) and International Maritime Organization (IMO) and prospects for maritime cooperation.
Earlier this month, in the backdrop of India's emergence as a key player in the US's scheme of things in the "Indo-Pacific", Global Times, the state-run Chinese mouthpiece, warned India that gravitating towards the US to contain China could jeopardize New Delhi's development and subsequently its Asian and global ambitions.
To understand the diplomatic and military dynamics between India and China, ahead of the maritime talks, Sapna Singh, principal correspondent, The Pioneer, interviewed Prof Swaran Singh, professor of Diplomacy and Disarmament, JNU, and veteran Major General SB Asthana, SM, VSM, chief instructor of United Service Institute of India and a highly decorated former officer of the Indian Army.
***
Interview with Swaran Singh: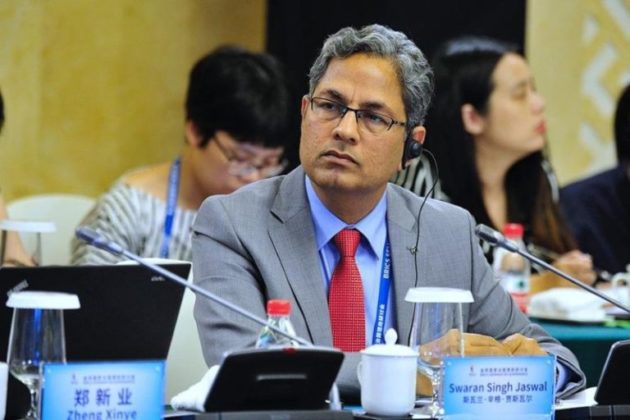 Sapna Singh: How important is the India-China maritime bilateral talk to maintain stability in South Asia, especially when deputy chief of Chinese embassy in Islamabad, Lijjan Zhao (June 29, 2018) told that China was holding talk with Indian officials on de-escalation of bilateral tension between India and Pakistan? It is pertinent to mention here that Zhao justified China's support for India-Pakistan rapprochement.
Prof Singh: China can have no role in playing good offices or mediator between India and Pakistan. This is not only because China has had special relationship with Pakistan, which has been perceived as anti-India but because China is party to Kashmir dispute as it is in occupation of the Shaksgam valley of Jammu & Kashmir. Pakistan gave away the Shaksgam valley to China in their 1963 agreement. India claims the whole of Jammu & Kashmir, including territories currently in occupation of Pakistan and China. However, this does not mean that India and China cannot work together in other areas including holding a maritime dialogue to address their mutual security concerns.
Since Prime Minister Rajiv Gandhi's China visit of 1988, both sides had agreed to explore cooperation and dialogue in areas where it is possible. China's expanding presence and influence in Indian Ocean and ts rapid military modernization have been of concern to India. Indeed, India's ministry of foreign affairs had recently announced that it would like to use second China-India maritime dialogue to also deliberate upon Indo-Pacific where India's participation has been a matter of concern for China. Especially in the backdrop of post-Wuhan "informal" summit between Prime Minister Modi and President Xi Jinping – where both leaders decided to provide strategic direction to their armed forces to ensure peace and tranquility – such dialogues can greatly contribute in ensuring better management of mutual frictions.
In Shanghai Cooperation Organization (SCO) summit, Chinese President Xi Jinping emphasized the importance of unity among the organization's members and on June 20, Chinese foreign ministry spokesman GengShuang also described India and Pakistan as China's neighbours and friends. Speculations are:  the statement prompts the possibility of China hosting trilateral dialogue with India and Pakistan on regional security. However, it is also being said that this is an attempt of China to neutralize India's opposition to China-Pakistan Economic Corridor (CPEC).
The Chinese ambassador (in New Delhi), Luo Zhaohui, said that his proposition of a China-India-Pakistan trilateral meeting during a speech was prompted by "friends" and it had direct connection with Pakistan, which undermined its credibility.
Shehbaz Sharif, former Pakistani PM Nawaz Sharif's younger brother, who has recently taken over reigns of their Pakistan Muslim League (Nawaz) following the ouster and jailing of Nawaz, had proposed such a trilateral meeting a week earlier while experimenting with speaking on foreign policy. This made it a non-starter to begin with. This may have been prompted by India's objections to CPEC complicating its implementation, although countries like Iran, Russia, Afghanistan have shown interest in joining it. However, until China's largest neighbour, India, comes on board, economic viability and political legitimacy of the CPEC remains weak.
China understands the significance of getting India on board. This explains why Luo Zhaohui has been making occasional proposals for changing the name as also the map of CPEC. India, of course, considers this as inappropriate way of making a serious offer worth considering. As its bargaining chip, New Delhi has also gone ahead with the rhetoric of India boycotting the Belt and Road Initiative. But three countries will have to come to some mutual understanding to sustain viability of CPEC.
How significant is the upcoming India-China "maritime dialogue" especially after the 2017 Doklam episode? The Chinese media is tagging the talk under the status of "dialogue to build Sino-India trust". Please elaborate.
Human activities and national priorities are shifting from land to sea. Rapidly emerging economies driven by foreign trade is making them increasingly dependent on oceans. Expansion of China's foreign trade from $47 billion in 1990 to $4.1 trillion last year has meant its increasing presence on oceans including the Indian Ocean. This increasing maritime interface of China and India calls for regular interactions for ensuring better trust and understanding to overcome episodes of frictions, which are inevitable. These episodes of friction are especially perilous given their history of mutual suspicions and disputes, which have been both the cause as well as consequence of their complicated ties. Lack of trust remains the fundamental problem between China and India and dialogue remains the most dependable key to resolve it.
Given that maritime domain is where their interface is expanding exponentially and inevitably, their maritime dialogue remains critical for ensuring peace and stability and explore the potential for building partnerships. Their appreciation of their shared destiny has seen their navies working together in anti-piracy operations in Gulf of Aden which saw Chinese and Indian navies conduct a joint operation to neutralize a pirate attack on a merchant ship in April 2017. This had happened in the backdrop of their first maritime dialogue, which was held in New Delhi, in 2017. Their border standoff during 2017 made it difficult to hold their second maritime dialogue, which isbeing planned to be held in month from now. This may revive continuity in building the confidence between their navies as well as their armed forces and other components of their government and politics.
India, as a powerful nation also plays key role in QUAD (the club of 4, which includes the US, Australia, Japan, and India. However, New Delhi had turned down a request from Australia to be part of annual Malabar maritime exercise this year, presumably to appease China. Can we say the India-China maritime dialogue talks will bring both countries closer to resolve some thorny issues between the two countries?
As was reiterated by Prime Minister Narendra Modi's speech last month at Shangri-La Dialogue in Singapore, Indian foreign policy remains anchored on strategic autonomy. India will not be taking sides but seeking out multiple alignments, exploring multiple partnerships in multiple sectors with as many countries as possible. Therefore, in the backdrop of India becoming engaged with recently revived quadrilateral of the US, Japan, Australia, and India, Modi's speech explained why India did not see the"Quad" as limited to a few countries or being aimed at any third country.
This was followed by India disagreeing to Australia joining Malabar naval exercises of US, India and Japan and then followed it up by proposing that India would be holding 'Indo-Pacific' dialogues with Moscow and Beijing. This balancing act has seen India drifting towards China and Russia, making skeptics believe that India's disinterest would make Quad ineffective, even dysfunctional. Therefore, New Delhi has to tread carefully because its hyperactive foreign policy not only increases its visibility, but also its responsible.
The Chinese ambassador to India, Luo Zhaohui, is going on a trip to Bhutan – a country with whom Beijing doesn't have diplomatic ties. What do you make out of such a trip, especially at the backdrop of the Doklam stand-off?
Ambassador Luo Zhaohui had first visited Bhutan during January 2017, but this was followed by Doklam crisis which derailed their efforts at cultivating Bhutan's political elite and the king. Earlier this week,(this Sunday-Monday-Tuesday)China's vice-foreign minister, Kong Xuanyou, visitedThimpu reviving China-Bhutan parleys. This not only saw the revival of their 24 rounds of talks on border held before Doklam, but it was the highest-level visit from China so far. Apparently, this visit happened in consultationwith India as Bhutanese the prime minister, Tshering Tobgay, visited India last month, which was preceded by the Bhutanese king's week-long private visit to India. Even from Chinese side, the vice-foreign minister visited India twice in the last six months.
Moreover, Bhutan's opening up to the outside world has been a gradual process and today Bhutan has diplomatic relations with 53 nations. It is a member of several international organizations, including the United Nations. Therefore, Bhutan's expanding international relations as well asChina's expanding engagements with India's neighbours is an irreversible process that India must reckon with and device innovative strategies to ensure protection of India's national interests, including India's special relations with Bhutan. Prime facie, it would be counterproductive at this stage to focus too much on competing China's commercial prowess. India should instead focus on building and strengthening digital and physical linkages highlighting cultural, religious, linguistic, social, political and people to people relations between India and Bhutan.
***
Interview with Major General SB Asthana: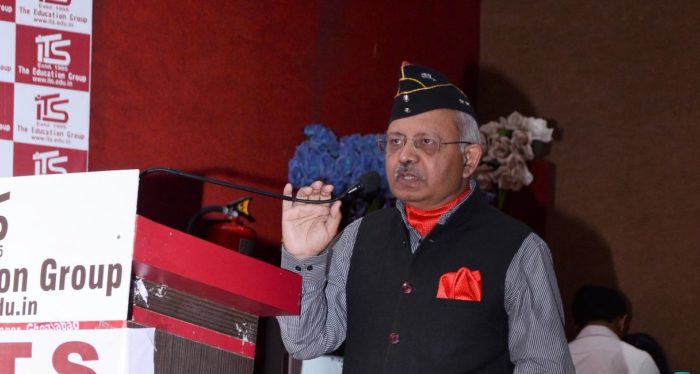 Sapna Singh: While India and China are going to hold maritime talks, India is also scheduled to share a common platform with Pakistan in Russia during Joint Military exercise in September. What can the New Delhi expect from Islamabad in terms of bringing down the level of hostilities between the two countries, especially in Kashmir?
Gen Asthana: India and China held maritime talks earlier in 2016, which hovered around maritime security. It was decided at that time that such talks will also be held later at a convenient date; hence, such news is no surprise.  What is different this time is China's apprehension to use of word 'Indo-Pacific' instead of 'Asia-Pacific' which China perceives as its isolation by countries using this terminology.
As an analyst my take is that Indian Ocean and Pacific Ocean are interconnected water bodies earlier referred separately because of few chokepoints in between. Now the entire world, including India, wants a seamless flow of trade through these water bodies, hence the use of this word in maritime domain is well justified.  India as well as global consensus is for following "rules-based" order and UNCLOS, which can be perceived differently as countering China's growing aggressiveness in that region. China's claims in the South China Sea, based on their own interpretation of history and thereby converting it into China's lake, is not in global interest, and hence it could be a point of discussion in India ­– China maritime dialogue, more so as it affects our energy interests with Vietnam in that region.
The Indian military has been jointly working with Pakistan military in the United Nations. They did so many times without any problem. However, this has never changed the stance of the two countries (vis-à-vis each other) or the reality along the line of control or international border. I do not see any change in Pakistan army's stance towards India, because an "India threat" theory is their logic of holding all elements of power in Pakistan. A boiling Kashmir along with a proxy war through militants is their key to be powerful politically, which is unlikely to change in near future.
In Shanghai Cooperation Organization (SCO) summit, the Chinese president, Xi Jinping, emphasized the importance of unity among the organization's members and on June 20, Chinese foreign ministry spokesman Geng Shuang also described India and Pakistan as China's neighbours and friends. Speculations are:  the statement prompts the possibility of China hosting trilateral dialogue with India and Pakistan on regional security. However, it is also being said that this is an attempt of China to neutralize India's opposition to China-Pakistan Economic Corridor (CPEC).
I would look at Chinese foreign ministry spokesman's remark that "India and Pakistan are China's neighbours and friends" as a normal diplomatic gesture. China has repeatedly said in past that it has no intention to muddle in Kashmir issue and has recognized it as a bilateral issue. When China talks of regional security it is looking at preventing US interference in the region. China knows India's position on Simla Agreement and the fact that India will not accept any such interference.
With Prime Minister Modi refusing to sign the clause in support of BRI/CPEC, it was quite evident that any compromise to sovereignty of entire Jammu & Kashmir (including POK and Gilgit-Baltistan), is unacceptable to India, because the Maharaja Hari Singh has legally acceded the entire state to India. I do not see any change in official position of India in this issue.
What do you think India's position should be on China's encroachment in the South China Sea? India has a stake because it has a joint oil-exploration deal with Vietnam in the disputed sea. (Beijing is apparently going to ask New Delhi to stop such activities.)
I have partially answered this question above. While Beijing may ask New Delhi to stop such activities, India has to pursue its own national interest. India may not have the resources to pursue it in South China Sea alone, but strategic partnerships to prevent obstruction to seamless flow of trade and resources will continue to grow, as the opposition to such activities grows.
How hopeful can India be that Beijing will give up salami-slicing Indian territory in the Himalayas and reach a permanent border settlement with India? Will New Delhi seek assurances from Beijing not to encroach into its strategic backyard – the Indian Ocean Region – and meddle with its South Asian neighbours, like Maldives and Nepal, in the maritime dialogue?
The India-China border problem is a complex problem. The permanent border settlement is difficult to achieve because there is no formal border treaty signed between India and China, hence both sides read history as it suits them. The stand of both sides has hardened over a period of time, and no one wants to make any compromise. What is doable is demarcation of the line of actual control on the map and ground, which can prevent salami-slicing and what I call 'incremental encroachment strategy of China'.
I do not think that India can or should object to China's engagement with any other sovereign country. We are also engaging with every Chinese neighbour including land as well as maritime neighbours. I do not think that any third country has any right to object in relations between two sovereign countries. We should concentrate more on strengthening our diplomacy with countries, where we feel we are losing out.
What can India do to ensure that it hasn't given too much away in return for too little from China in these talks? What in your opinion could be the issues in which India can be flexible and on what issues do you think India must remain firm and not give in?
We should be firm on issues concerning our sovereignty like CPEC/Kashmir, independence in our foreign policy and our strategic choices. We should be flexible in China's relations with other countries including our neighbours. We should be negotiating on issues of common interest like trade and economy.