New Delhi: In a bid to further give a filip to bilateral relationship, India and Korea on Friday stressed on strengthening Parliamentary Exchanges, Economic Relations and Defence Cooperation.
An India-Korea Parliamentary Friendship Group (IKPFG) delegation of Korea-India Parliamentarians' Association of the National Assembly President Song Young-Gil met Rajya Sabha Deputy Chairman Harivansh Narayan Singh in Parliament House Annexe Extension here.
Welcoming the delegation, Mr Singh said that India and Republic of Korea are natural partners and have Special Strategic Partnership since 2015.
"Our bilateral engagement spans in diverse fields, such as Defence, Science & Technology, Economy, Culture and people-to-people exchanges.
"India's 'Act East Policy' and 'New Southern Policy' of Republic of Korea are in consonance with each other and exploring synergies between the two policies would provide an excellent framework to expand our multidimensional collaboration," he added.
Referring to the Parliamentary exchanges between the two countries, the Deputy Chairman said it was a matter of great satisfaction that there have been regular exchanges of Parliamentarians between the two countries in the recent past.
Such interaction of Legislators is an integral part of the Special Strategic Partnership and compliments the efforts of the governments in deepening and strengthening the relationship, the RS Deputy Chairman  said.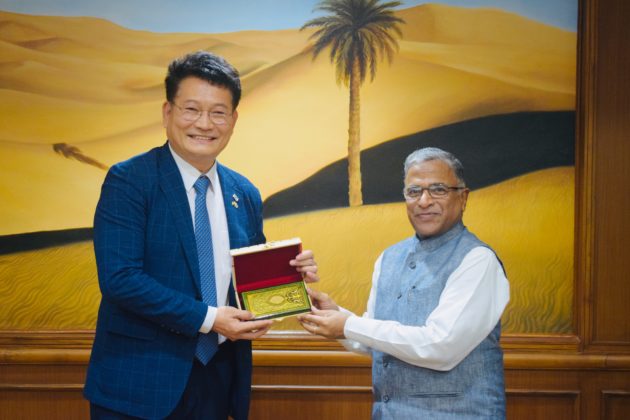 On economic relations between the two countries, Mr Singh mentioned that India is among the Republic of Korea's top 10 trade partners and the sixth largest export destination for Korean goods.
He further stated that the 21.5 billion dollars trade volume in the calendar year 2018 between India and Korea is envisioned to get more than double by 2030.
He expressed the hope that conclusion of the upgradation of the Comprehensive Economic Partnership Agreement (CEPA) would be an important step in this direction.
The RS Deputy Chairman said that India, being the fastest growing economy in the world, offers huge potential for Korean companies, especially in sectors like shipbuilding & ports, defence, steel, chemicals, food processing industry and infrastructure, among others.
He added that India welcomes the partnership of Republic of Korea in the initiatives of 'Make in India', 'Start-up India', 'Smart Cities' and investment in Defence Corridor, Steel Sector, Shipping and Maritime Sector.
Mr Singh hoped to collaborate, co-produce and capture the world market in Defence Technology Equipment, Artificial Intelligence, Block Chain Technology, Cyber Technology and 5G, among others.

He also highlighted the Special Strategic Partnership in Defence cooperation between the two countries and mentioned that the collaboration between the Republic of Korea's 'Hanhwa' and India's 'Larsen & Toubro' to supply 100 K9 self-propelled Howitzers to the Indian Army, is a landmark development.
He further stated that joint production of Defence equipment for exports to other countries is a promising area and encouraged Korean companies to invest in India's Defence Corridors in Tamil Nadu and Uttar Pradesh.
He hoped that the Korean Parliamentary delegation's visit would further strengthen the historic and cultural relations between the two countries.
The delegation, led by Mr Young-Gil, appreciated the friendly relationship between the two countries and expressed the hope that their visit would strengthen the existing bonds.
The KIPA president congratulated India for completing the gigantic task of conducting successful General Elections, without any hindrance.
He expressed satisfaction that India has embarked on a higher economic growth path, under the leadership of Prime Minister Narendra Modi.
He assured that Korea can also be a strategic partner to help reduce pollution by switching over from oil-based propellant vehicles to electric vehicles and coal-based electricity to solar and nuclear-based electricity, which is critical to address the problem of climate change.

He further said that Korea can also extend its cooperation in aviation management, in the wake of development of 200 airports in India, over the next five years. (UNI)