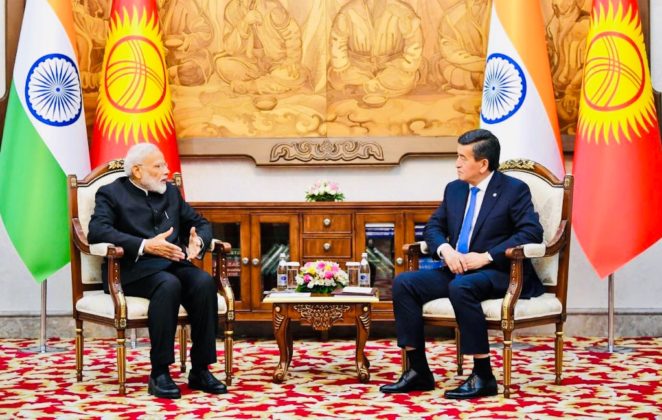 Bishkek: Prime Minister Narendra Modi on Thursday urged the business  community in India and Kygyzstan to explore the untapped potential in each other's country, saying that a Bilateral Investment Treaty is being actively considered to facilitate investment and a five-year plan has been worked out to expand trade.
Inaugurating  the India-Kyrgyz Business Forum with Kyrgyz President Sooronbai Jeenbekov, the prime minister said a Double Taxation Avoidance Agreement had been finalised to create the right business climate.
And to promote two-way trade, a five-year plan has also been finalised.
Both sides are discussing a direct flight between Bishkek and New Delhi, sources said.
Kyrgyzstan has the most liberal tax regime in the Central Asia and has potential to become a gateway to the region.
Modi said his government has been working on a  Preferential Trade Agreement with the Union.
Trade between the countries amounted to only $37 million in 2018 and the existing potential must be fully unlocked, Modi said.
He said Kygyzstan provided good opportunities for Indian businesses in the field of textiles, railways, hydro power, mining and mineral explorations.
He also invited Kyrgyz businesses to invest in India, saying the country is a huge market and it is about to become a five trillion dollar economy.
President Jeenbekov on his part urged Indian businessmen to invest  in the national economy of Kyrgyzstan, especially in energy sector where Kyrgyzstan has a huge potential.
He mentioned the  Kambar-Ata and Upper Naryn hydel power projects in this regard.
Jeenbekov, who was a special guest of honour at Prime Minister Modi's swearing in ceremony, said Kyrgyzstan is ready to increase exports of organic products to India.
"I would like to note that the Kyrgyz side is ready to increase the  volume of exports of organic products. I urge Indian investors and  foundations to cooperate closely. We have defined the creation of  favourable conditions for investors as a priority, and a number of  measures have been taken in this direction," said the Kyrgyz leader.
Modi noted that organic products from Kyrgyzstan have a good reputation in  the Indian market. "Mountain honey, nuts and milk products are famous  for their ecological purity and natural processing.
The two countries  have good opportunities in medicine, textiles, hydropower, mining and  tourism," he said.
This Business Forum was organized by the  Investment Promotion and Protection Agency of the Kyrgyz Republic with  the assistance of the Federation of Indian Chamber of Commerce and  Industry.
The purpose of the Forum is to activate  trade and economic cooperation between Kyrgyzstan and India, as well as  to discuss the development of cooperation in joint implementation of  infrastructure and energy projects.
The Forum was attended by 50 members of business delegations as  well as representatives of leading companies of the two countries and officials.  (UNI)