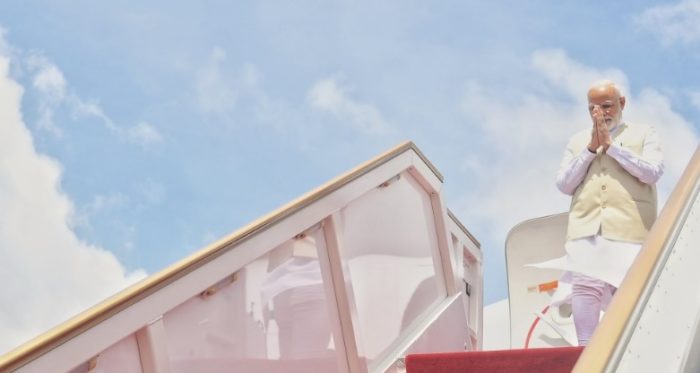 Colombo: Prime Minister Narendra Modi on Sunday said India "never forgets" her friends when they are in need.
"Happy to be back in Sri Lanka, my third visit to this beautiful island in four years. Share the warmth shown by the people of SL in equal measure. India never forgets her friends when they are in need," Mr Modi tweeted shortly after his arrival.
He also wrote: "Deeply touched by the ceremonial welcome".
The Prime Minister arrived here on the second leg of his first overseas visit to the Maldives and Sri Lanka trying to demonstrate the importance the Modi government attaches to its 'Neighbourhood First' policy.
Mr Modi was received by his Lankan counterpart Ranil Wickremesinghe at the Bandaranaike International Airport.
"The visit is a very special gesture and it is a very clear message of solidarity that the people and government of India stand firmly with the people and government of Sri Lanka at this tragic time," Foreign Secretary Vijay Gokhale told reporters here on Thursday.
During his stay here, Mr Modi will hold talks with Sri Lankan President Maithripala Sirisena, Leader of the Opposition Mahinda Rajapaksa.
Sources said a delegation of the main Tamil party in the island nation – Tamil National Alliance – will also call on the Prime Minister.
Mr Modi is the first international leader to visit Sri Lanka after it was hit with an unprecedented terror strike and the Easter bombings that killed over 250 people, including 11 Indians.
On Saturday, marking his maiden overseas visit since taking over as PM for the second term, Mr Modi held wide-ranging talks with Maldives President Ibrahim Mohamed Solih.
In his address to People's Majlis, Parliament of Maldives, Mr Modi made a veiled attack on Pakistan and said terrorism poses a major challenge globally.
He also has pointed out that a lot of time has been wasted in the debate on a good or a bad terrorist.
"The water is already rising above the danger level," Mr Modi has said adding "I will expect the world bodies and especially the major global players that within a time frame, a global conference be convened to discuss matters pertaining to terrorism. So that we can discuss all issues and loopholes that the terrorists and their supporters make use of".
Mr Modi's visit to Maldives and Sri Lanka also reflects India's sincerity for the success of the SAGAR – Security and Growth for All in the Region – doctrine.