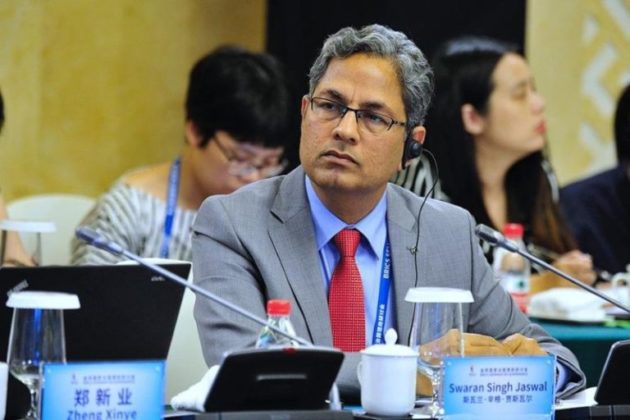 After Mexico and China, the US had launched a new tariff war against India. US President Donald Trump time now and time again claimed that India is a "tariff king" and imposes "tremendously high" tariffs on American products. Trump administration has ended the preferential trade status to India and New Delhi has termed it as unfortunate. To know in details, The Pioneer's Principal Correspondent Sapna Singh exclusively talked to JNU's professor for Disarmament and Diplomacy Dr Swaran Singh in New Delhi.
Ques: Recently, Pentagon released a report on Indo-Pacific strategy, it underscores – building new and stronger bonds with the nations that share our values across the region, from India to Samoa! Sir, at this point, United States interests also coming at India's Iran oil imports, Generalised System of Preferences (GPS) status and S- 400 purchase from Russia.., What do you think?
Ans: The successive US administrations have often looked at India to countervail China's rise. More recently, given the shift in US-China equations from military to economic prowess, and in wake of India emerging as Asia's third largest economy and clocking an impressive growth rates, this makes it all the more critical for US to engage India in its containment of China. Rise of India of course also makes India far more capable to purse its traditional stance of nonalignment that seeks it to avoid taking sides and focusing on pursuing its own national interest. Recent years have seen India exploring India building pragmatic partnerships with as many countries in as many sectors as possible. This has seen India sustaining its strategic partnership with its time tested friend Russia while also building closer strategic partnerships with the U.S. and its friends and allies. The US administration increasingly understands this. So while US will continue to seek cultivating India and even seek to apply diplomatic pressures, New Delhi has also become increasingly assertive in pursuing its strategic autonomy which has seen it purchasing Russian S400 air defence systems as also propagating China's engagement in Indo-Pacific discourse to ensure it does not become exclusive or militarised.   
Ques: United State is prioritizing pressure without taking care of India's energy security, instance – US' attempt to coax Iran back to the negotiating table bought India's energy security into cross-hairs. Your comment.
Ans: India has finally ceased importing Iranian oil partly because of US pressures persisting but making exceptions by giving India extended period to comply with US sanctions on Iran. The US has also tried to partially cover India's deficit in its oil imports by supplying oil. But Iran being often second or third largest oil supplier for India and India's oil imports accounting for over eighty per cent of its annual consumption makes it impossible for any other supplier to cover for Iran which is bound to create oil crisis for India with serious implications for all other sectors of India's economy.  
 Ques: United State is leveraging prospect of CAATSA sanctions over India's  S-400 purchase? How do you see it?
Ans: Like all other domestic laws of the U.S. which are sought to be applied on other sovereign states and international entities CAATSA has also been applied keeping in view US equations with the target as also its larger geopolitical implications. The case of CAATSA being applied in case of Russian exports of S400 air defence systems to China and India makes an ideal case to explain this. While US slapped secondary sanctions on China without any delay it has not imposed any such sanctions on New Delhi. India perhaps also facilitated this manoeuvring space for the US by underplaying its S400 purchase and also arranging their delivered in a staggered manner over an extended period of time. The fact that unlike China, India stands out as 'major defence partner' of the US and has placed orders for US defence systems for over $14 billion over last one decades has also been in consideration of the US while applying CAATSA sanctions. Credit should also be given to India's diplomatic finesse and its overall relevance for US while it sees itself in competition with China that makes implementation of CAATSA very different when it comes to China and India. 
 Ques: How do you see US's attempt to push India and not let irritants on those fronts hijack the rising tempo of strategic ties?
Ans: The fact that India has emerged as world's six largest economy (and expected to anytime become fifth largest) and also emerged as a major buyer of US defence systems makes US value its overall strategic partnership with India where it must manage multiple irritants that include issues like US tightening the noose on granting H1B visa for professional Indians, India's reluctance to allow free transmission of data, India's purchase of Russia's S400 air defence systems or India's reluctant to join US sanctions on Iran or trade war with China. But then its not possible to imagine India and US having no variance of worldview or having no irritants as long as these can be managed without much disruption in their overall bilateral relations.