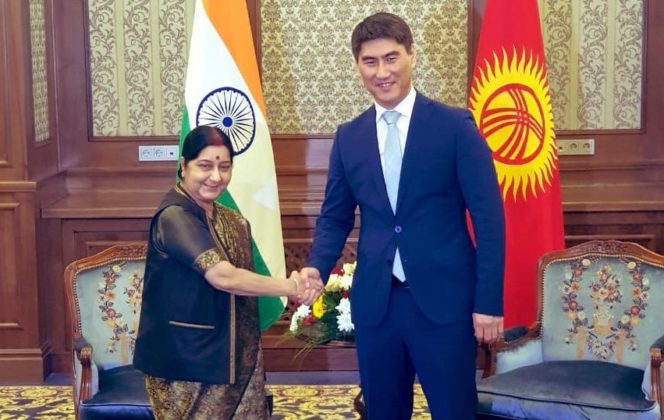 External Affairs Minister Sushma Swaraj soon after arrival in the Kyrgyz capital Bishkek on Tuesday met Kyrgyzstan Foreign Minister Chingiz Aidarbekov and had a "productive discussion" on all aspects of bilateral relations.
The talks included political, defence, trade and investment, health, capacity building and people-to-people ties.
This is Swaraj's second visit to Kyrgyzstan within a year after the India-Central Asia Samarkand Dialogue on economic engagement and development partnership held in Samarkand, Uzbekistan, earlier on January 13 this year.
Ambassador Alok Dimri said the the minister's two-day visit "will help consolidate the Samarkand spirit further."
In April, during foreign office consultations, both sides discussed trade and economic linkages, e-visas, tourism, medical, civil aviation, education, and people-to-people exchanges.
They also discussed the evolving situation in Afghanistan, terrorism affecting the region and the follow-ups on the outcomes of the India-Central Asia Dialogue.
The Kyrgrz side expressed interest in Indian participation in Railways and hydro-energy sector in the country.
It was decided that the 10th India-Kyrgrzstan Business Council meeting would be held in Bishkek later this year.
The SCO Council of Foreign Ministers meeting is the second that India will be participating as a full member of the bloc and she is expected to discuss the threat of terrorism and security situation in Afghanistan at the meeting.
The meeting will exchange views on issues of international and regional importance.
It will also review the preparations for the forthcoming SCO Summit in Bishkek which begins on June 13.
Swaraj will call on President Sooronbay Jeenbekov and hold other bilateral meetings while in Bishkek.