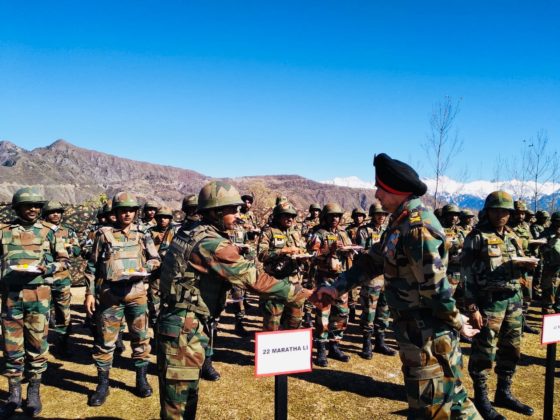 The Northern Command Chief, Lt Gen Ranbir Singh, on Friday said if Pakistan doesn't stop from carrying out such activities which is detrimental to our national interest then it should be punished accordingly.
"There have been snipping incidents across the LOC and we have regularly protested with our Pakistani counterparts of activity of snipping and wherever they have carried out any ceasefire violation we have given them befitting reply," Army Commander said while talking to media persons at the sidelines of a function to felicitate teachers of Army Goodwill Schools (AGS) in Udhampur.
The GOC-in-C said, "The message is clear to all troops on the ground that if the Pakistan not stop from carrying out any activity which is detrimental to our national interest along the LOC, they should be punished accordingly".
Pertinent to mention that three Army soldiers and a porter were killed and four others were injured in sniping incidents along the LoC in Jammu's Rajouri and Poonch district last week.
Replying to a query in regard to infiltration from across the LoC, he said that Pakistan has continued with its efforts to give impetus to infiltration.
"The Indian Army is deployed all along the LoC and it has been able to thwart all attempts by Pakistan to push in militants toward our side", he said adding, "Security situation in hinterland in J&K is stable but fragile for any trigger which can cause any disturbance."
He also said, "There has been reports of activities of terrorists in south of Pir Panjal and these are isolated incidents and we have been able to check and arrest such movement in Panjal and people of the area know the dividends of peace in the area and have helped army in keeping it this way for which I want to thank them .
Referring to panchyat polls, he said, "Panchayat elections is important part of our democratic process. "All the details of security measures have been tied up. We have meetings at all the levels and we are hopeful of having a secure environment and people should be able to come out to vote in free and fair manner," the Army Commander said .
To a question about militant rank recruitment, Lt Gen Singh replied that as far as recruitment is concerned it's satisfying for the past some time there has been declined in the number of youth joining millitancy and I think we should be able to keep this trend going for next period of time.
He referred that Foreign Military Attaches of different countries have been allowed to visit the banned areas of Ladakh under a familiarisation tour for the first time because this is part of outreach programme at national level and people have come and seen the situation in Ladakh and have felt satisfied with the situation and activities of Government and state and security forces
"Military exercise with China have been part of regular confidence building measures between the two armies , he added.