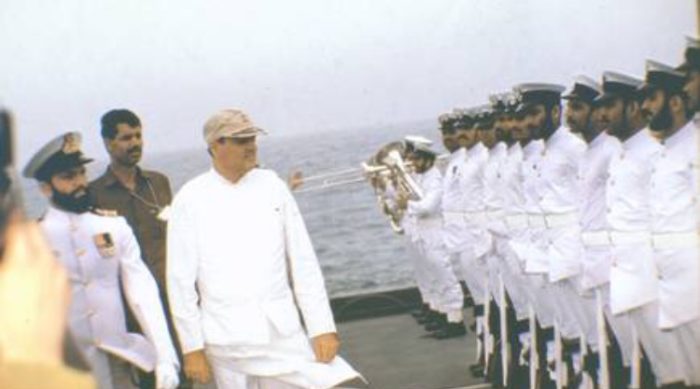 A day after Prime Minister Narendra Modi charged that former Prime Minister Rajiv Gandhi had used aircraft carrier INS Viraat for personal vacation in 1987 along with his family, the then brass of the Navy and the warship on Thursday refuted the claim, saying that Mr Gandhi was onboard an official trip en route to Lakshadweep island.
"There were no foreigners with them. I, as Flag officer Commanding-in-Chief (FOC-in-C), Southern Naval Command, based in Cochin, also boarded INS Viraat. Four other ships were with INS Viraat as part of Fleet exercises. As FoC-in-C, I hosted a dinner for them on board INS Viraat. There were no other parties held on board INS Viraat or for that matter any other ship in our fleet during that time," former Navy Chief, Admiral L Ramdas (retd.) said in an open letter.
Admiral Ramdas also pointed to written responses from Vice Admiral Vinod Pasricha (retd), then Captain and commanding officer of INS Viraat; Admiral (retd.) Arun Prakash, then Commanding INS Vindhyagiri that was accompanying INS Viraat; and Vice Admiral Madanjit Singh (retd.), then commanding officer of INS Ganga.
He stated that Rajiv Gandhi and Sonia Gandhi were onboard INS Viraat off Thiruvananthapuram enroute to Lakshwadeep. Rajiv Gandhi was in Thiruvananthapuram as the chief guest of the National Games prize distribution.
Rajiv Gandhi and Sonia Gandhi visited some of the islands on short trips by helicopter to meet local officials, as also the people there which the Prime Minister was authorised to, Admiral Ramdas said.
"From what I know only Rajiv and Sonia went ashore by helicopter and Rahul never accompanied them," he observed. On the last day of the visit to Bangaram island, a few naval divers were sent ashore for the Prime Minister's safety, he said.
No ships were "specially diverted for the personal use of the Gandhi family," Admiral Ramdas said.
The Western fleet had planned its naval exercises with the aircraft carrier much in advance in the yearly programme to be held in that part of the Arabian Sea.
"This was an opportunity for the officers and men to interact with their PM. He addressed the men, had 'bada khana' as per Naval custom," Admiral Ramdas recalled.