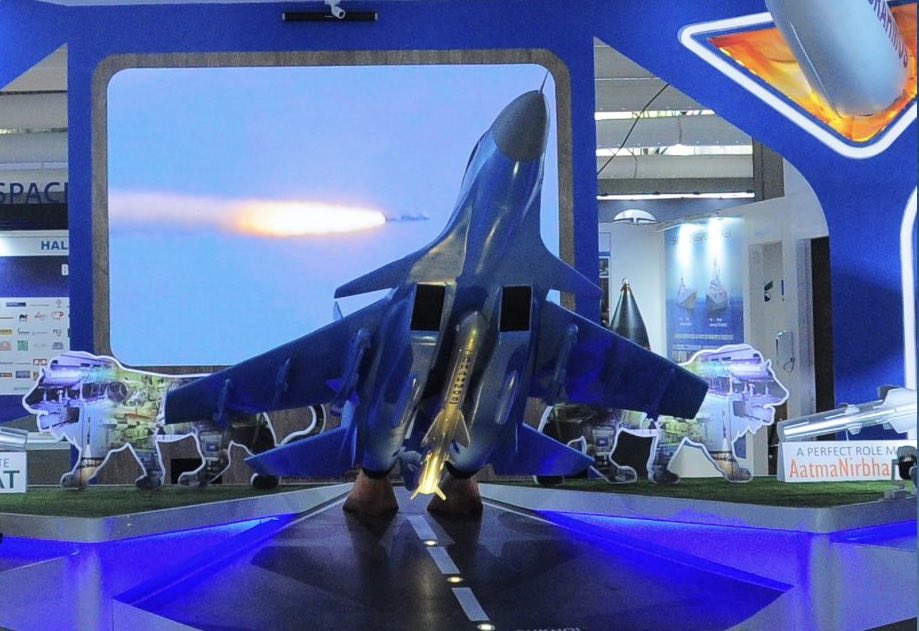 A model of a Sukhoi-30MKI fitted with a BrahMos missile at display during the DefExpo – 2022 in Gandhinagar, in October 2022. (File photo)
New Delhi: The chief of the Indian Air Force, Air Chief Marshal Vivek Ram Chaudhari said that the IAF is looking to equip its smaller fighter planes with the next-generation BrahMos supersonic cruise missile. The IAF chief said this at an event to mark the silver jubilee of BrahMos Aerospace, on Wednesday.
Speaking at the event titled "BrahMos User Meet – 2023" in the national capital, the IAF chief urged BrahMos Aerospace, which is an Indian-Russian joint venture, to develop next generation smaller version of the much-praised missile for adding muscle to its MiG-29, Mirage 2000 and Tejas fleets, like it has done to the heavier Sukhoi-30MKIs.
Without naming China, ACM Chaudhari pointed to the tensions between New Delhi and Beijing over the latter's encroachment of Indian territory at the line of actual control (LAC) in eastern Ladakh, so augment his case on why the IAF's other warplanes too need to be equipped with the BrahMos.
The IAF chief said, "As the situation unfolded on the northern borders three years ago, we realized that the potent weapon [BrahMos] can be used very effectively for land attacks. We, therefore, equipped more squadrons with these BrahMos-modified aircraft. Today, we have BrahMos-modified aircraft in almost all squadrons across the IAF," adding, "What we are looking at is the next-gen BrahMos or a smaller version that can be fitted onto the smaller platforms like the MiG-29, Mirage 2000, or even the LCA."
"The combination of BrahMos on the Sukhoi Su-30 has really given us tremendous capability that has enhanced our firepower. It has made the deterrence value of the IAF go up by leaps and bounds," he said.
He also emphasized on the importance of long-range precision weapons in the context of what the world is witnessing in "global conflicts". ACM Chaudhari said, "Seeing conflicts that are happening across the globe, the importance of precision, long-range firepower can't be underscored. [Sic]"
Urging BrahMos Aerospace to develop a smaller and effective version of the BrahMos missile, the ACM said, "This is an area where we need to really focus our energies to develop a smaller cost primarily, a smaller weapon with the same reach and lethality. This could be taken as one of the challenges."
He then said that along with the upgraded BrahMos and forthcoming next-generation BrahMos, this missile will remain the IAF's "primary deterrent weapon".
Earlier, speaking at the same event, the chief of defence staff, General Anil Chauhan, said "atmanirbharta (self-reliance) doesn't imply that we will create everything in India. He said, "We are going to establish joint ventures and BrahMos Aerospace is one such venture." It has been a major success story, BrahMos is truly a 'Brahmastra' (an invincible mythological weapon) of its time."
About BrahMos
The BrahMos supersonic cruise missile has been developed as a joint venture between India's Defence Research and Development Organization (DRDO) and Russia's Federal State Unitary Enterprise NPO Mashinostroyenia (NPOM) as BrahMos Aerospace through an intergovernmental agreement.
The company was established on February 12, 1998, with an initial authorized share capital of $250 million. India holds 50.5 per cent share of the joint venture and its initial financial contribution was $126.25 million. On the other hand, Russia holds 49.5 per cent share of the company with an initial contribution of $123.75 million.
The first BrahMos was test-fired on June 12, 2001, in a vertical launch configuration from the Integrated Test Range (ITR) in Odisha's Chandipur.
The missile's official operational range is just under 300 kilometres. However, after India became a member of the Missile Technology Control Regime (MTCR) in 2016, there is no obligation on Russia to deny transfer technology for longer-range missiles to India or not be involved in a joint project with India to manufacture missiles with a range of over 300 kilometres.
There are reports that India and Russia are now planning to jointly develop a new generation of BrahMos missiles that can strike targets over 1,500 kilometres away with pinpoint accuracy.
Currently, the missile has land-to-land, land-to-sea, sea-to-land, sea-to-sea, air-to-land, and air-to-sea variants. The missile also has a submarine variant that can be launched from an underwater depth of 40 metres to 50 metres (130 feet to 160 feet).
All the three services – Army, Air Force, and Navy – operate at least one of the variants of the missile.
BrahMos NG
BrahMos Aerospace is now developing the next-generation version of the BrahMos missile. It will be a smaller but more sophisticated and agile version than the existing BrahMos variants. mini version based on the existing BrahMos system.
As India Sentinels reported during the DefExpo – 2022, which was held in Gandhinagar in October last year, the BrahMos NG will weigh 1.6 tonnes and will be 6 metres long. The current version of the missile, which is in service, weighs 3 tonnes and is 9 metres long.
The new missile will have a homemade seeker with an AESA radar. It will have a range of 290 kilometres and a speed of up to Mach 3.5. It will also have a lesser radar cross-section in comparison to the current version.
At that time, Group Captain MK Srivastava (retired), general manager of BrahMos Aerospace (Air Version), had said it would take 10–12 months to develop the missile to hit sea targets after the successful development of the missile that can hit land targets.
---