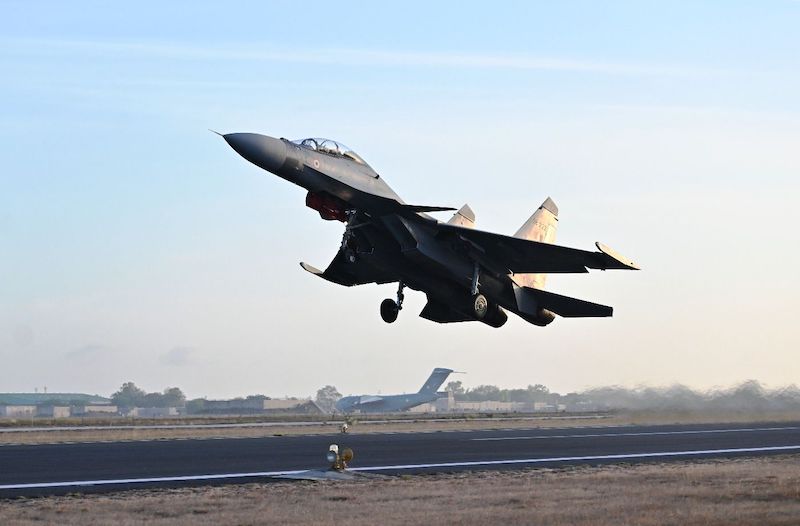 An IAF Sukhoi-30MKI with a C-17 Globemaster III in the background. (Photo: Indian Air Force)
New Delhi: The Indian Air Force will participate in Exercise Iniochos – 2023, a multinational air-combat drill hosted by the Hellenic Air Force (Greek air force). The exercise will take place at the Andravida Air Base in western Greece from April 24 to May 4.
The IAF will participate with four Sukhoi-30MKI fighter jets and two C-17 Globemaster III heavy-lift strategic aircraft.
In a media release, the IAF said the objective of the exercise is to enhance international cooperation, synergy, and interoperability among the participating air forces. It said the exercise will be conducted in a "realistic combat scenario involving multiple types of air and surface assets".
The Air Force further said the drill would also enable the participating contingents to engage in professional interactions, providing valuable insight into each other's best practices.
The exercise, which is named after the statue of Charioteer of Delphi, also known as Heniokhos (or Iniochos), which in Greek means "holder of reins", is a two-week drill organized by the Hellenic Air Force – one of the largest Nato air forces – at the Andravida Air Base, which is also the HAF's Air Tactics Centre. The Nato actively helps Greece in conducting this annual air-combat drill, which has attracted the air forces of many countries in recent years, including non-Nato countries.
It may be noted that already, the IAF has taken part in six air exercises, five of them overseas, with friendly foreign countries this year. They were Exercise Desert Flag in the United Arab Emirates, Exercise Cobra Warrior in the United Kingdom, Exercise Veer Guardian in Japan, Exercise Shinyuu Maitri again in Japan, Exercise Cope India with the United States in India's Kalaikunda, and Exercise Orion in France.
---