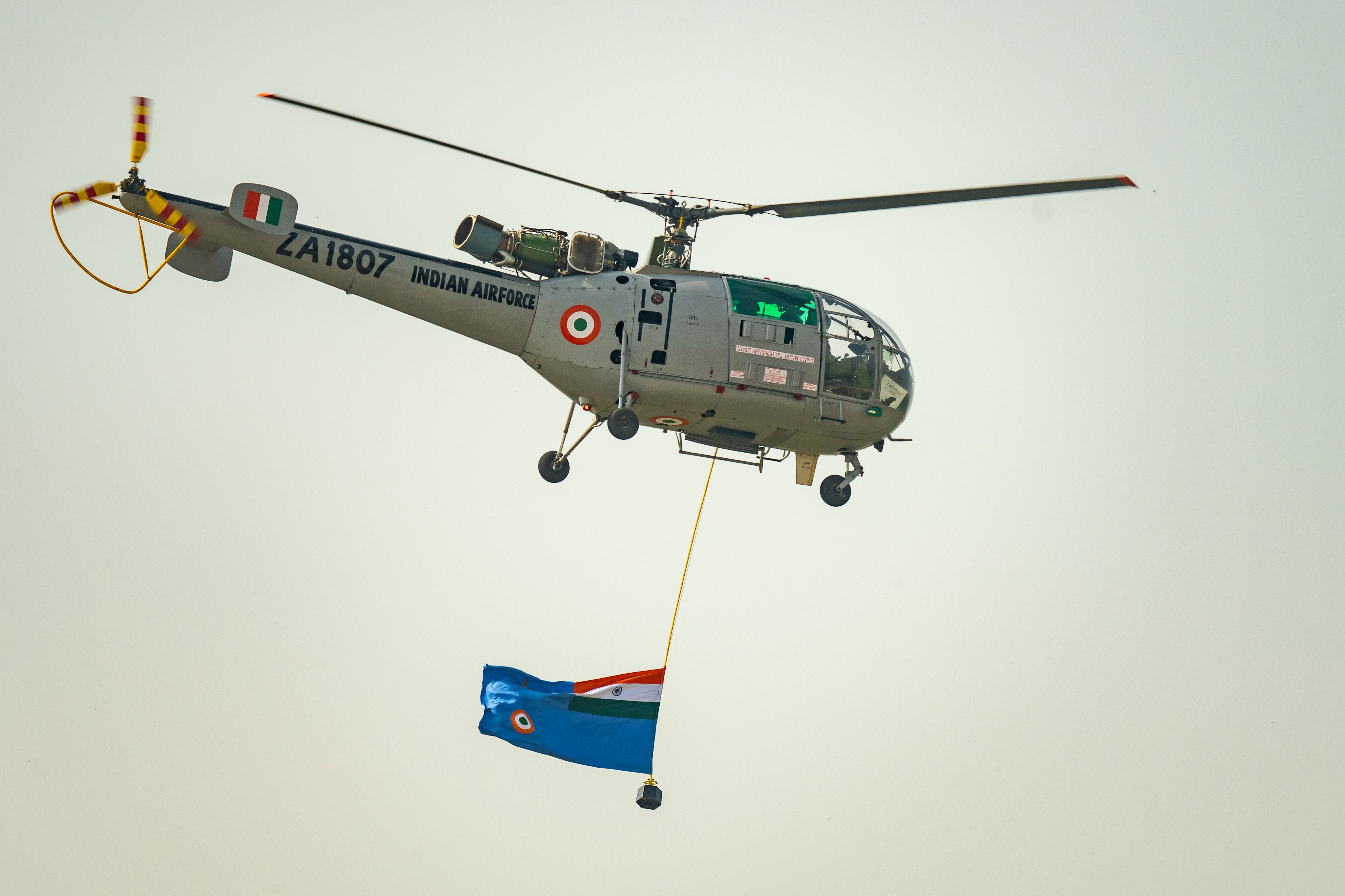 IAF new ensign unveiled at Prayagraj
New Delhi: Indian Air Force chief ACM VR Chaudhuri on Sunday unveiled the new ensign of the IAF at Prayagraj in Uttar Pradesh on the occasion of 91st anniversary celebrations.
In a statement, the IAF said that a new ensign was created to "better reflect the values of the force" and that "this reaffirmation will now be reflected by the inclusion of the Air Force Crest on the top right corner of the ensign, towards the fly side".
The development comes over a year after the Indian Navy changed its ensign for the fourth time since 1950 at the commissioning of India's first indigenous aircraft carrier, INS Vikrant.
Earlier, the IAF did not have the IAF crest on its ensign. The new ensign now includes the crest, which has been placed on the right-hand corner above the Air Force-tricolour roundel.
The Indian tricolour is placed on the top-left corner of the ensign.
Prior to Independence, the Royal Indian Air Force (RIAF) ensign comprised the Union Jack in the upper-left canton and the RIAF roundel (red, white and blue) on the fly side.
Post-Independence, the IAF ensign was created by replacing the Union Jack with the Indian tricolour and the RAF roundels with the IAF tricolour roundel in the lower right canton.
The IAF crest has the national emblem, the Ashoka Chakra, on the top, with the words 'Satyameva Jayate' in Devanagari below.
Below the Ashoka lion is a Himalayan eagle with its wings spread, denoting the fighting qualities of the IAF. A ring in light-blue colour encircles the Himalayan eagle with the words 'Bharatiya Vayusena' in Devanagari script.
The motto of the IAF is inscribed below the Himalayan eagle in Devanagari.
The IAF motto has been taken from verse 24, Chapter 11, of the Bhagavad Gita and means "Radiant Thou Touchest Heaven" or in other words "Touching the sky with Glory", added the statement issued by the MoD.
The earlier ensign of the Indian Navy was a white flag with horizontal and vertical red stripes, symbolising the Cross of Saint George, with the emblem of India superimposed on the intersection. The tricolour was placed in the upper canton next to the staff.
The new naval ensign does not have the Cross of Saint George.
It has the national flag on the upper canton and a blue octagonal shape encompassing the national emblem sitting atop an anchor. The anchor, depicting steadfastness, is superimposed on a shield with the Navy's motto 'Sam No Varunah' — "may the lord of the water be auspicious unto us".
---