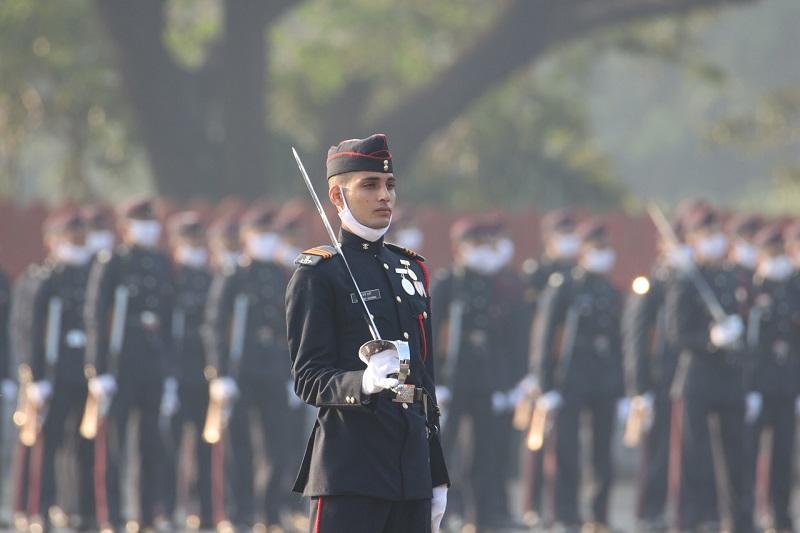 ACC Utkarsh Sharma adjudged first in overall merit of Air Force cadets
Pune: Indian Air Force (IAF) chief Air Chief Marshal Rakesh Kumar Singh Bhadauria on Saturday reviewed the Passing Out Parade (POP) of 139th Course at National Defence Academy's (NDA) Khetarpal Parade Ground in Khadakwasla.
ACM Bhadauria had also served as Commandant NDA from August 2014 to January 2015.
Congratulating the cadets, the IAF chief expressed that it is indeed a matter of pride and satisfaction that despite the pandemic related disruptions, the cadets quickly adapted to the modified training curriculum and completed their training on time.
He conveyed his gratitude to the parents of the cadets for being their strength during these three years of their training at NDA.
ACM Bhadauria complimented the staff of NDA for imparting the training and completing the curriculum despite numerous constraints.
He impressed upon the cadets of the passing out course that as future leaders they have to be courageous, competent and honest to earn the respect of the men they command.
The IAF chief highlighted that the battle-space has become more complex, multi-dimensional and unpredictable.
''The appointment of CDS and DMA marks the beginning of reforms in higher Defence formations,'' he said.
He remarked that NDA is the perfect Tri-Services institution to inculcate a sense of jointmanship and synergy for future military operations.
He urged the cadets to carry forward the brotherhood and bonhomie imbibed in the Academy to their respective Services and also for the sister Services.
The conduct of Parade was suitably modified so as to ensure Covid-19 related precautions and thus the parents could not be invited for the ceremony, an official said.
A total of 540 cadets participated in the parade of which 302 cadets were from the 139th course.
This included 222 Army cadets, 45 Naval cadets and 35 Air Force cadets including 17 cadets from Friendly Foreign Countries (Sri Lanka, Afghanistan, Vietnam, Maldives, Bhutan, Tanzania, Turkmenistan, Tajikistan and Myanmar).
The cadets will proceed for eight weeks of term break and thereafter join their respective Pre-Commissioning Training Academies.
Cadets of the junior courses will report back to the NDA on Jnauary 4 next year.
ACM Bhadauria also presented awards to the cadets.
Battalion Cadet Captain Anirudh Singh won the President's Gold Medal for standing first in the overall order of merit.
Divisional Cadet Captain Somay Badola won the President's Silver Medal for standing second in the overall order of merit and Battalion Cadet Captain Anmol won the President's Bronze Medal for standing third in the overall order of merit.
'India' Squadron bagged the prestigious 'Chiefs of Staff Banner', for being the Champion Squadron which was presented during the parade.
---