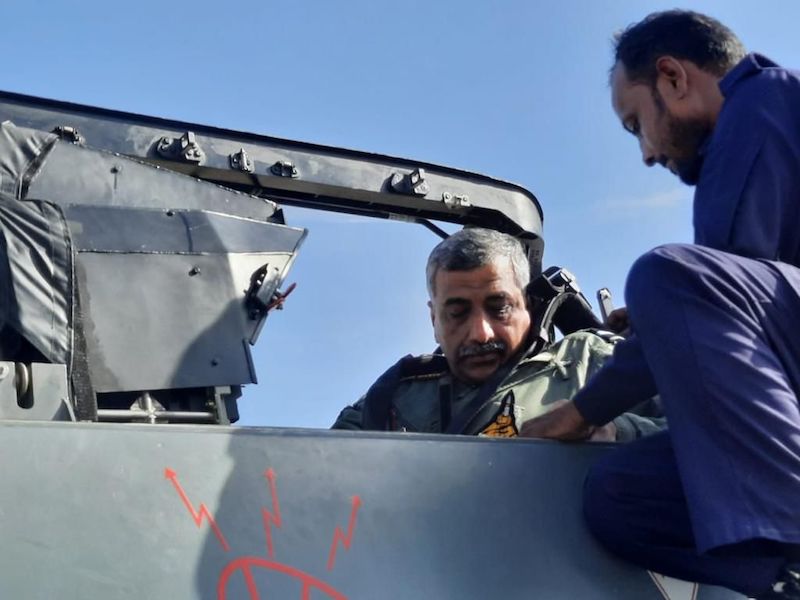 Air Marshal Ashutosh Dixit on Tejas Trainer-01 at National Flight Test Centre, Bengaluru, on June 15, 2023. (Photo by special arrangement.)
New Delhi: The deputy chief of the Indian Air Force, Air Marshal Ashutosh Dixit, visited the National Flight Test Centre, Aeronautical Development Agency, and Hindustan Aeronautics Limited's Tejas Division in Bengaluru to take stock of the progress of the indigenous combat aircraft projects, on Thursday. At the Tejas Division, the HAL team briefed AM Dixit on the production status of the trainer aircraft and the plan for deliveries of the light combat aircraft Tejas MK1A.
During his review trip, the IAF deputy chief, who is a keen test pilot himself, flew a series production Trainer-01 of the LCA Tejas at the NFTC to evaluate its capabilities and assess the progress of indigenous combat aircraft projects. The Tejas Trainer-01 is currently undergoing final developmental test sorties. The IAF is presently operating the Tejas MK1 aircraft and has a pending order of 83 Tejas MK1A aircraft from the HAL.
During his assessment trip, AM Dixit also visited the light combat helicopter (LCH) Prachand production line to assess the production status of the indigenous combat helicopter. The delivery of 10 LCH limited series production aircraft for the IAF is nearing completion, and the production of the aircraft is expected to start soon to meet the order of 145 series production LCH for the IAF and Indian Army.
---