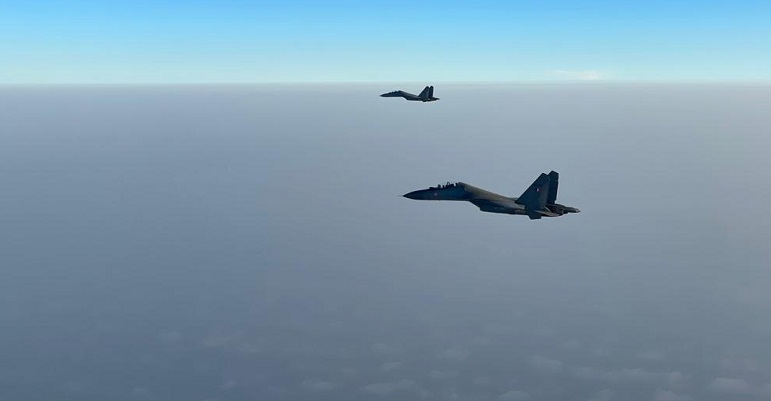 Sukhoi over IOR. (Photo by special arrangement.)
New Delhi: Two Indian Air Force Sukhoi-30MKI fighter aircraft went on an outing over the Indian Ocean Region for eight hours, this week, the service said. This comes mid China's expansionist strategy and increased forays in the region.
These fighter jets covered both seaboards from different axes, showcasing their long-range battle capabilities. During the exercise, the country's frontline fighter jets carried out a variety of manoeuvres and simulated operations.
Another outing into the Indian Ocean Region!

This time, with #IAF Su-30s flying nearly eight hours, on a different axis.

Both Seaboards covered. pic.twitter.com/5KXF3jLFbL

— Indian Air Force (@IAF_MCC) June 9, 2023
It may be noted that last week, the IAF's newly acquired Rafale aircraft carried out the same mission for six hours.
The IAF had tweeted: "Four IAF Rafales flew a long-range mission for over six hours into the IOR. The aircraft 'fought' their way through a large force engagement en route to their weapon release point. Pickle on time, weapon on target—the IAF way!"
#IAF stretching its legs.

Four IAF Rafales flew a long range mission for over six hours into the IOR. The aircraft "fought" their way through a large force engagement en route to their Weapon Release Point.

Pickle on time, weapon on target-the IAF way! pic.twitter.com/FldiluXEZX

— Indian Air Force (@IAF_MCC) May 31, 2023
---