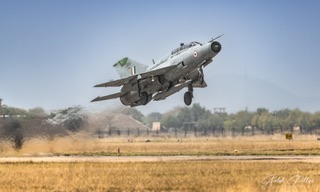 Jaipur: An Indian Air Force Mig-21 fighter crashed in Hanumangarh district of Rajasthan, on Monday. The crash killed two civilians on the ground, including a woman, the Rajasthan Police said.
The pilot reportedly ejected and is said to be safe.
The Hanumangarh district collector, Rukmani Riar, said the fighter was a Soviet-origin Mig-21 jet and it crashed near the Dabli area of the district. She confirmed that the pilot was safe.
Jassaram Bose, an additional superintendent of police in the Hanumangarh district also confirmed the death of two civilians on the ground when the fighter crashed on a populated area. There are reports of others sustaining injuries.
Officials fear that the civilian death toll may increase.
This is a developing story. Will be updated with fresh inputs.
---