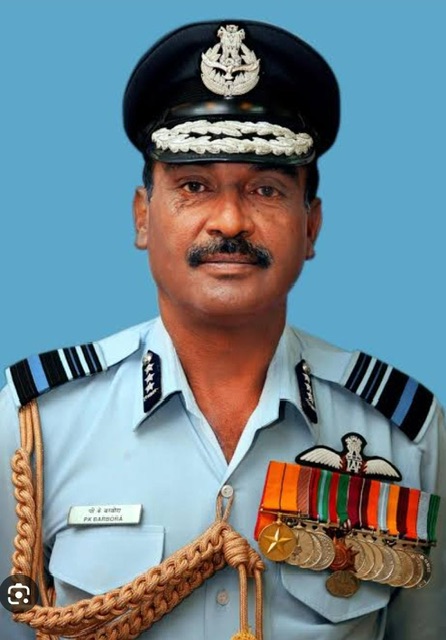 Shillong: Former Indian Air Force vice chief Air Marshal PK Barbora (Retd) was passed away on Monday after illness at the age of 72 years in Delhi. The officer was known for calling a spade a spade.
Air Marshal Barbora (Retd) has been credited for reactivating the Daulat Beg Oldi (DBO) airstrip during his stint as the Western Air Command chief in 2008. The DBO airstrip was reactivated after more than four decades of closure.
The government and the IAF were sceptical about it.
DBO is the highest airfield in the world and located east of Siachen and close to the Line of Actual Control (LAC) with China.
He had also activated the Fuk Che Advanced Landing Ground.
Air Marshal Barbora was born on December 10, 1950 in Shillong and was commissioned into the IAF as a Fighter Pilot on June 13, 1970.
A highly experienced aviator with over 3500 hours to his credit, he took part in the 1971 war.
A qualified Flying Instructor and a Fighter Combat Leader, he was on the staff of Tactics and Air Combat Development Establishment - a premiere flying establishment of the IAF.
He twice served in the Directorate of Air Staff Inspection (DASI) at Air Headquarters. He was a graduate of the College of Combat, Mhow where he completed his higher command course.
He was a member of the IAF team that inducted the first Jaguar Squadron and also the IAF's maiden Air Combat Simulator - the first of its kind in Asia.
Among his several operational assignments include Command of a MiG-21 squadron, Chief Operations Officer of a fighter airbase and Air Officer Commanding of a premier fighter airbase under Eastern Air Command.
He has been Air Attaché at the Embassy of India, Moscow and Assistant Chief of Integrated Defence Staff (Perspective Plans and Force Structure) in HQ Integrated Defence Staff besides holding the appointment of Assistant Chief of Air Staff (Inspection) at Air Headquarters.
He served tenure as Senior Air Staff Officer, EAC before he took charge as the AOC-in-C for the first time. He subsequently became the AOC-in-C of WAC.
He was the first personality hailing from the North East to reach such a coveted high post in the Armed Forces.
Air Marshal Barbora is a recipient of Param Vishisht Seva Medal (PVSM) and Vayu Sena Medal (VM).
He is also one of the Honorary Aides-de-Camp (ADC) to the President, who is the Supreme Commander of the Armed Forces of India.
---