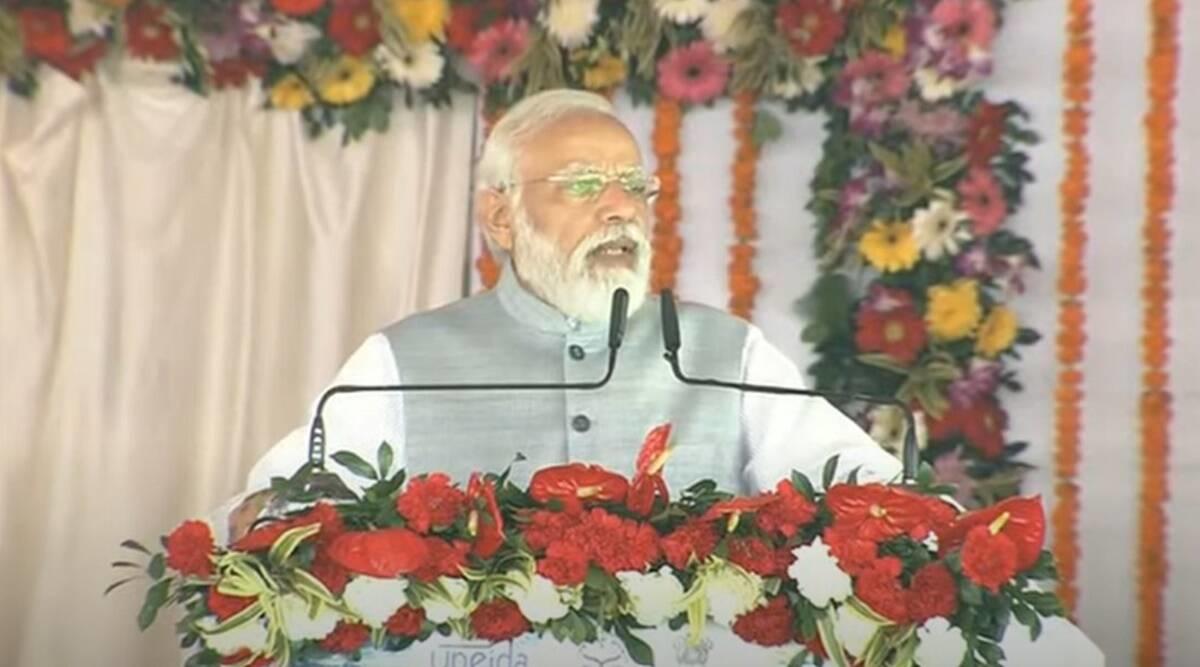 Prime Minister Narendra Modi speaking during the inauguration of the Purvanchal Expressway.
New Delhi/Sultanpur: Prime Minister Narendra Modi inaugurated the 341km Purvanchal Expressway in Uttar Pradesh, on Tuesday, after landing on the highway strip in an Indian Air Force C-130 Hercules transport plane. He landed on the 3.2km stretch of the highway, in Sultanpur district's Karwal Kheri, that has been constructed to enable planes to land during emergency.
IAF C-130J Super Hercules with PM Modi onboard lands on Purvanchal Expressway pic.twitter.com/plMFIkvUP4

— Enemy Slayer (@EnemySlayer24_7) November 16, 2021
After Modi's plane touched down, two IAF warplanes – a Mirage 2000 and a Jaguar – also touched down on the expressway. While the Jaguar touched down and took off within a few seconds, the Mirage 2000 made a full landing. The inauguration ceremony also saw an AN-32 transport aircraft landing troops on the strip, a flypast by three Kiran Mk2s that were flanked by two Sukhoi-30MKI fighters.
Indian Air Force's Jaguar, fondly called 'Shamsher', makes a touch-and-go at the Purvanchal Expressway, inaugurated by PM @narendramodi a short while ago.@DefenceMinIndia @IAF_MCC pic.twitter.com/huKHEX0qg5

— Prasar Bharati News Services पी.बी.एन.एस. (@PBNS_India) November 16, 2021
Indian Air Force's Mirage 2000 lands at the newly-inaugurated Purvanchal Expressway in UP@DefenceMinIndia @IAF_MCC pic.twitter.com/vppbr4hlIp

— Prasar Bharati News Services पी.बी.एन.एस. (@PBNS_India) November 16, 2021
The six-lane expressway, which can be expanded to an eight-lane highway, links the state capital, Lucknow, with Ghazipur in the east of the state. It has been constructed at cost of around ₹22,500 crore.
The UP chief minister, Yogi Adityanath, and the chief of defence staff, General Bipin Rawat were present among other dignitaries during the expressway's inauguration.
---