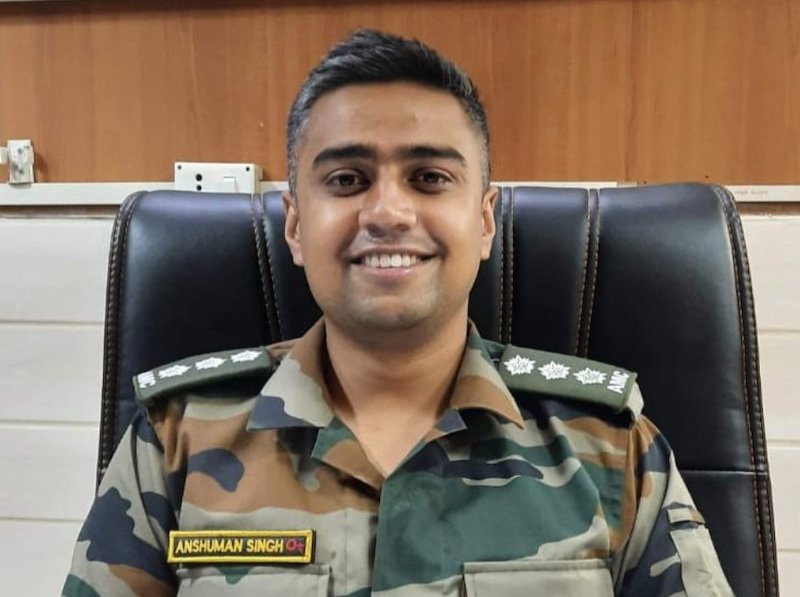 Captain Anshuman Singh. (Photo by special arrangement.)
New Delhi: Captain Anshuman Singh, an Indian Army medical officer, was killed, three soldiers, including a lieutenant colonel, and three porters were injured in a fire incident at the Siachen glacier in Ladakh. According to the Army, the incident took place in the wee hours of Wednesday, at around 3.30am.
Capt Singh died of burns and smoke inhalation. The three other soldiers and three porters sustained similar injuries. The injured have been evacuated and brought to the Chandigarh Army Hospital by an Army helicopter.
In a statement, the Army said: "The incident took place around 3.30am on Wednesday. The injured soldiers, who have suffered smoke inhalation and second-degree burns, are currently stable." The name of the lieutenant colonel and the ranks and names of the other two soldiers injured in the incident are not released yet.
An earlier report had said a short circuit started a fire in an ammunition store, which resulted in the incident.
Son of a retired Subedar, Capt Anshuman Singh, 26, was a graduate from the prestigious Armed Forces Medical College, following which he joined the Army Medical Corps. He was a resident of Lucknow and got married in February this year.
Siachen glacier
The Siachen glacier was a no-man's land before India occupied the strategic heights through a daring operation codenamed Meghdoot, in April 1984, pre-empting Pakistan's plan to capture the region. The glacier separates India's two main adversaries – Pakistan and China – from meeting and encircling the entire Ladakh region from the north.
Since then, it has become the highest battlefield in the world. However, more than enemy fire, nature and the terrain claimed the lives of more soldiers on both the Indian and Pakistani side. According to available figures, over 800 Indian soldiers have died while on duty in the Siachen region, mostly due to frostbite, hypothermia, altitude sickness, and terrain-related accidents.
Over the years, New Delhi and Islamabad had been trying to arrive at an agreement to accept the 110-kilometre-long actual ground position line (AGPL), which runs from NJ 9842 to Indira Col West on the Indira Ridge, as the de facto border between the two countries, like the line of control (LoC) in Kashmir, so that the region can be demilitarized to prevent loss of life and expenditure of the enormous resources needed to maintain troops and equipment at such a hostile region.
However, there have been no breakthrough in the talks, so far.
---