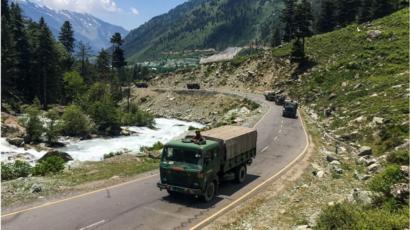 New Delhi: Construction of 255-km Darbuk-Shyok-Daulat Beg Oldie (DSDBO) road connecting Leh to the Karakoram Pass in Ladakh, including eight bridges and Doklam standoff by India made Chinese upset which subsequently led to violent clash between two Asian giants, wherein 20 Indian soldiers were killed while over 40 Chinese troops suffered casualties.
One of the bridge is connecting the Patrolling Point 14 in Galwan area with the territory across the Shyok river is also linked to the strategic road which is a contentious issue for China.
India is building this road as part of 61 strategic roads that the government has identified to construct. This will help in reducing the travel time between Leh and DBO to six hours. Earlier, the travel time between the two locations was two days.
"They got piqued because of the bridge we were constructing on our side of the Line of Actual Control (LAC). Clearly, their action was driven by revenge for Doklam. Drawing a parallel to Doklam is like comparing chalk and cheese," sources in the government establishment said.
The construction of road was started two decades back but special focus was given after 2014 when Narendra Modi assumed charge as the Prime Minister in 2014.
DBO is located only 9-km away from the LAC with China and the road will help in managing the border and the areas around Aksai Chin, Chip Chap River and Jiwan Nalla.
As per the sources, Galwan Valley is named after a local Indian explorer Ghulam Rasool Galwan. The same area was claimed by Chinese as Depsang plains earlier. Now, it becomes Galwan Nala. Tomorrow, it will be called as Changchenmo plains since Chinese are expert in changing goal post all the time.
Earlier, Chinese were never seen in the area as the Galwan Nala is the narrowest and difficult to move in, sources said.
India has announced its casualties but the Chinese have acknowledged that they suffered casualties but did not reveal any numbers.
"Their claim that they did not want to announce casualties as a good will gesture is not only fake but an acknowledgement that they suffered casualties. The Communist Party of China and People Liberation's Army of China will not be able to save face if the truth of their casualties are revealed. China like their iron brother friend Pakistan -- don't believe in claiming their fallen soldiers."
Honouring them is a concept that they don't understand, they added.
---