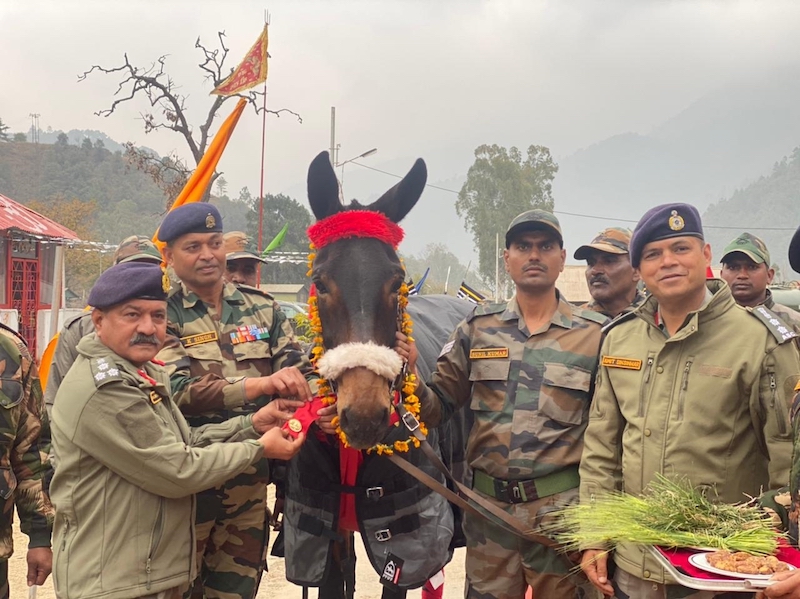 Indian Army mule Hoof No. 122. (Photo: Indian Army)
Tezpur: Beasts of burden had been the key for not just the Indian Army in keeping the logistics "supply chains" running to win wars, it holds true for every army that saw conflict around the world, from the times immemorial. This holds true even in the age of drones and high-tech-driven age, when it comes to delivering the last-mile package of food, ammunition, medical aid, or a simple letter from family to troops facing the enemy in the most hostile of terrains.
The Indian Army operates in some of the most hostile terrains in the world. Among them are some of the most uncompromising battlefields, be it in the Siachen Glacier, the blood-freezing high-altitude deserts of Ladakh and western Arunachal Pradesh, or the boiling-hot desert of Rajasthan's Thar.
To enable the Army to be completely stocked, prepared, and motivated, the force, through its Remount Veterinary Corps, has maintained an "army" of mules, which delivers just what the Army needs in time. And here comes in our star mule named Hoof No. 122.
A mule, as we all know, is a hybrid between a donkey and a horse. It can't produce offspring. However, it is considered as an animal that has the highest endurance in carrying material and materiel in the toughest of the terrains, like the high Himalayas.
Hoof No. 122, a young mule, had been doing its "national duty" as an "Army mule" with diligence and no complaints for years. Its steadfastness and obedience saw tonnes of logistics reaching seemingly impossible pockets of the Indian Army's outposts, some of which are above 15,000 feet above the sea level in Arunachal Pradesh's Tibetan borders.
The beloved mule of the Army, which always reassured India's frontline troops guarding our territory against the very real threat of another Chinese aggression, Hoof No. 122, attracted the attention of none other than the Army chief, General Manoj Pande.
And Gen Pande awarded Hoof No. 122 with the "Army Chief's Commendation Card", which is generally reserved for exceptional soldiers and officers who have shown extreme courage, dedication, and valour while serving in conflict zones.
In its citation, the Army said:
"Enduring extremely tiring and inhospitable conditions, Remount Number 4K-509 and unit Hoof Number 122 Mule (Mountain Artillery) always stood at the forefront of animal transport convoys from forward patrolling point to Yangtse (above 15,000 feet). His steadfast physical presence and extremely composed temperament had put calming influence on other panicky animals and was thus instrumental in ensuring zero-casualty rate.
Despite all odds of heavy rains and treacherously slippery track conditions, the mule displayed tremendous physical robustness, surefootedness, and was ever willing for load- lifting duties remarkably contributing to tough tasks, like lifting vital engineering, ammunition, and ration loads, during advance winter stocking, 2021. This six-year-old mule lifted load of around 6,500 kilograms and covered a distance of 750 kilometres.
His exemplary keenness, supreme dedication beyond the call of duty in uncongenial operational environment, rightly merits due recognition and has been awarded Chief of the Army Staff Commendation Card on Army Day 2023."
---
Note: The story has been updated with the Indian Army's citation for Hoof No. 122, on January 17, 2023.
---
---