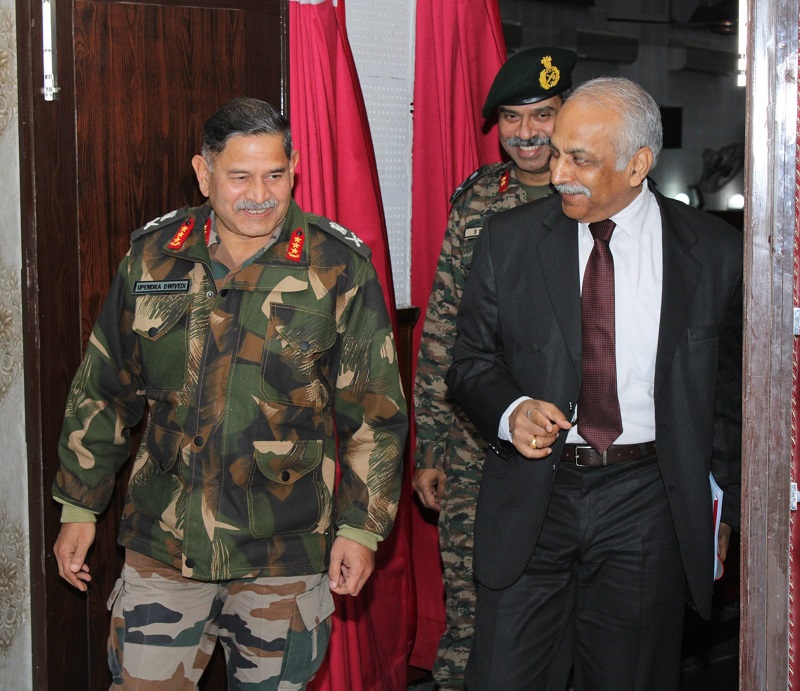 Lt Gen VG Khandare (R) and Lt Gen Upendra Dwivedi
Udhampur: National security cannot be confined to the use of the state's coercive power to overcome domestic and external threats, advisor in the defence ministry Lt Gen VG Khandare (Retired) said that the civil and military cooperation is the need of the hour.
He was of the view that such threats cannot be dealt solely though enhanced military capability without addressing the drivers of illegal trades.
He was speaking at a lecture on "Comprehensive National Security", which was attended by Northern Army Commander Lt Gen Upendra Dwivedi, and Senior Officers of the command.
"A modern state confronts multiple and simultaneous challenges across several domains."
Further, he highlighted that Make in India and startup eco system be supported at all stages.
"The lecture laid emphasis on the ensuring of the security measures in totality which has to be a continued process at all levels in any Defence set up," the Northern Command PRO said.
The General officer explained that, for a Modern state operating in an increasingly globalised world, the line between what is domestic and what is external is becoming increasingly blurred.
"The lecture was a fruitful endeavour keeping in mind that Northern Command is operationally active command, the lecture beneficiated the audience manifold," the PRO said.
---