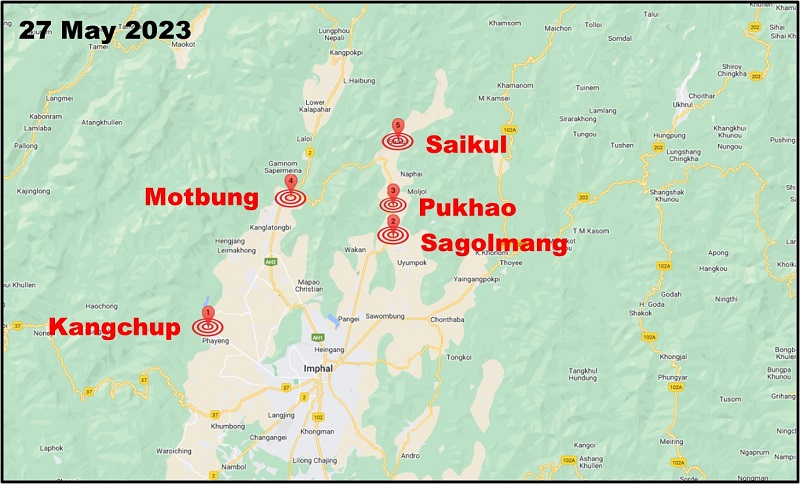 Kohima: In the aftermath of recent spurt in violence in Manipur, the Indian Army and Assam Rifles have launched large-scale combing operations in vulnerable flash points as well as in the higher reaches surrounding the Imphal valley.
Continuing with operations, the Army and Assam Rifles have launched multiple search operations in areas of Kangchuk, Motbung, Saikul, Pukhao, and Sagolmang starting in the wee hours of May 27 in the state to track down armed insurgents operating in these areas.
These operations are a part of the overall ongoing efforts of the Army and Assam Rifles to restore peace and normalcy in Manipur.
---
---
The Army said its columns are using latest technology, weapons, equipment, and other force multipliers in their operations in the forested and mountainous areas.
The Kohima-based defence PRO, Lieutenant Colonel Amit Shukla said, "Relentless actions by Army and Assam Rifles in last night (Friday) also resulted in successful prevention of loss of life in one village each in Churachandpur and Imphal East districts."
So far, the ethnic violence between the Meitei people and other tribal groups, especially the Kuki people, which started on May 3, claimed over 70 lives in Manipur, according to various reports. Some unofficial reports say the death toll in the violence has already crossed 100. Thousands of private and community property have also been destroyed by arsonists and mobs, displacing tens of thousands of civilians.
While some of the displaced people have returned to their villages and towns, many still remain in various relief camps, including those inside Army and Assam Rifles stations.
---