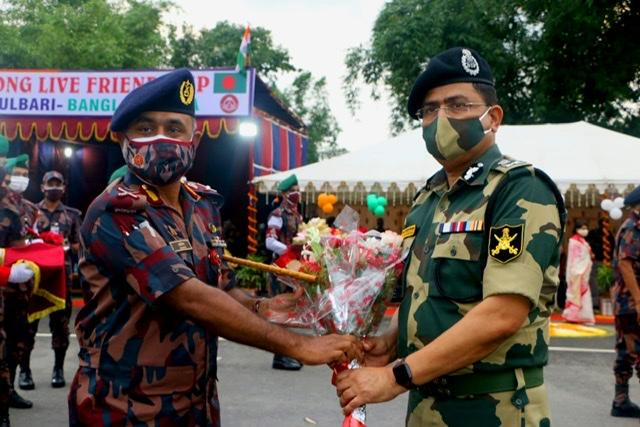 Jalpaiguri: Border Security Force Director General Rakesh Asthana on Saturday visited Teenbigha Corridor on the Indo-Bangladesh border and reviewed the border management.
He was briefed by Deputy Inspector General of Sector Headquarters BSF Jalpaiguri.
He also interacted with bordermen and Mahila Praharies and urged them to work with sincerity and dedication so that the boundaries of the country always remain secured and safe. Asthana also planted a sapling at BOP Teenbigha. He is on a 2-day visit to Indo-Bangladesh border.
Earlier in the day, BSF special DG (Eastern Command) Pankaj Kumar Singh and Inspector General of North Bengal Frontier Ravi Gandhi welcomed him.
DG BSF discussed the operational and administrative matters with senior officers of Frontier and reviewed the precautionary measures being taken by the force in order to curb spread of Covid-19.
He also visited ICP/BOP Fulbari where he was welcomed by DIG SHQ BSF Siliguri and other senior officers of BSF.
Thereafter, the Director General witnessed a glittering, dazzling and historic Joint Retreat Ceremony at ICP Fulbari-Banglabandha between BSF (India) and BGB (Bangladesh) in full regalia in which both the border guarding forces lowered their respective National Flags in cordial and harmonious atmosphere.
On this occasion, Brigadier General Rakibul Karim Chowdhury, Region Commander, North West Region Rangpur and other senior officers of Border Guard Bangladesh were also present.
The DG BSF alongwith SDG, BSF and IG North Bengal Frontier interacted with the Region Commander North West Region, BGB and exchanged pleasantries with each other.
---