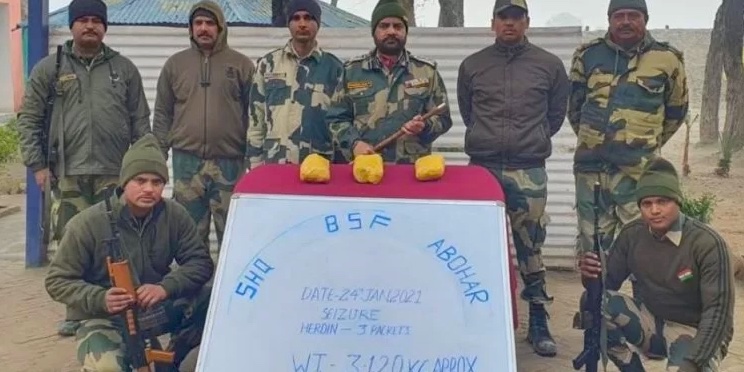 File photo of a January 2021 drug haul by the BSF in the Fazilka district's Abohar sector.
Amritsar: In a breakthrough against the transborder narcotics-smuggling network in Punjab, the Border Security Force and Fazilka Police, in a joint operation, seized 31.02 kilograms of heroin and arrested two kingpins of a cartel engaged in drug trafficking.
In a media release, the BSF said that during the intervening night of January 5-6, its troops of the 55 Battalion noticed some suspicious movements in their area of responsibility at the Chakmira border outpost in the Abohar sector. The troops then challenged the moving figures and fired at them to stop them. However, the suspects managed to escape under the cover of darkness.
Then the troops followed the footprints of the suspects from the border fence, which led to a border village. The BSF cordoned off the area with the help of Fazilka Police and launched a search. The joint operation resulted in the arrest of two suspects, who are believed to be kingpins of a local transborder drug cartel, and recovery of 31.02 kilograms of heroin from them.
An FIR has been registered and further investigation going on to identify and bust other links in the network.
It may be noted that the Abohar sector, where the incident happened, falls in the Fazilka district, whose headquarters are in the city by the same name in the district. The Abohar city, after which the sector is named, is in south Punjab very close to the international border with Pakistan and interstate border with Rajasthan. This area has witnessed several drug hauls in recent times.
---