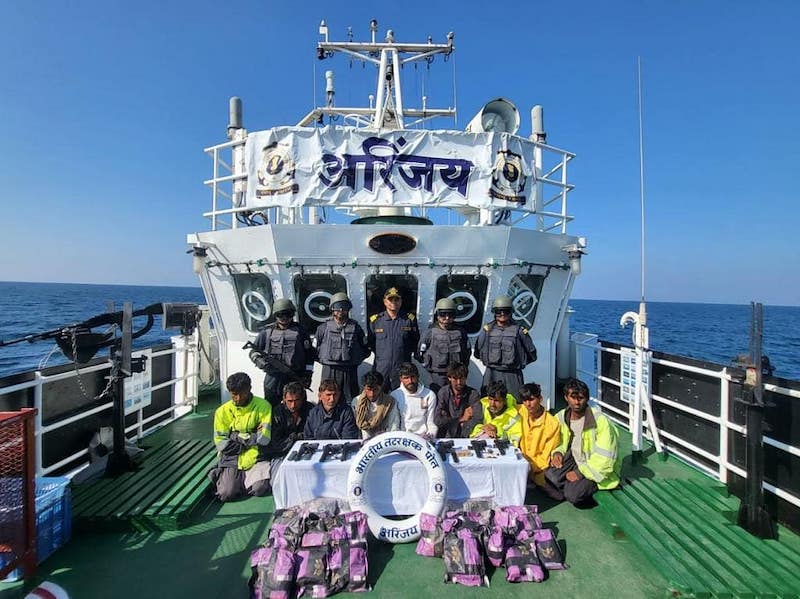 Indian Coast Guard personnel along with the apprehended crew of Al Soheli and the seized drugs and weapons on board the ICGS Arinjay. (Photo: Indian Coast Guard)
New Delhi: The Indian Coast Guard launched an operation, based on the intelligence passed by the Gujarat anti-terrorism squad, and intercepted and seized a Pakistani fishing boat carrying arms, ammunition, and narcotics in Indian waters, on the intervening night of December 25-26, the Coast Guard said. The boat, which had a crew of 10, was intercepted near the International Maritime Border in the Arabian Sea, off the Gujarat coast.
After intercepting the boat, which is named Al Soheli, Coast Guard personnel searched it, during which arms, weapons, and around 40 kilograms of narcotics worth around Rs 300 crore were found concealed in it. The Coast Guard said one of its fast-patrol ships, ICGS Arinjay, took part in the mission.
The boat along with its crew have been brought to Okha for further investigation.
This is the seventh joint operation by the Coast Guard and ATS, Gujarat in last 18 months and first apprehension wherein arms and ammunitions along with drugs were being smuggled. During the mentioned period, a total 346 kilograms of heroin worth Rs 1,930 crore has already been seized along with the arrest of 44 Pakistani and 7 Iranian crew.
---