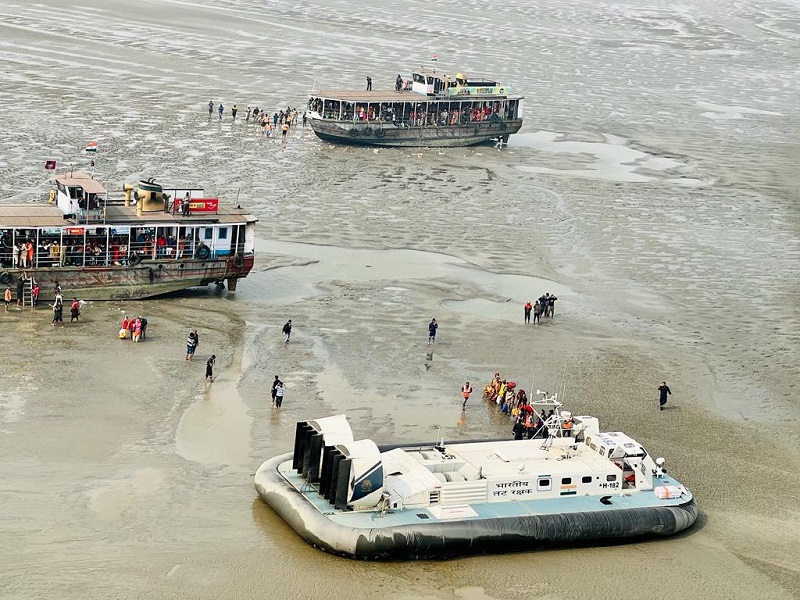 Kolkata: In a swift operation, the Indian Coast Guard on Monday rescued 511 personnel stranded at sea in two different ferries, off Kakdwip in West Bengal.
On Monday morning, Haldia-based Coast Guard District Headquarters No. 8 received a message from District Magistrate South 24 Paraganas about grounding of two ferries at sea near Kakdwip.
The ferry vessels namely MV Lcchamati and MV Agramati were ferrying about 600 pilgrims from Ganga Sagar Mela at Sagar Island to Kakdwip.
Upon receipt of the information the operations team of Coast Guard swung into action and after ascertaining the position immediately dispatched two ACVs (Hovercraft) from Haldia and Frazerganj to provide rescue assistance.
The ACVs arrived at the incident site within half an hour of message and post assessing the on scene situation, an evacuation plan was finalized.
Simultaneously a Coast Guard Team also went to the stranded vessels to pacify the people, thereafter the personnel were briefed about the evacuation plan.
The hovercrafts started evacuating personnel in next 15 minutes at 1000 hours to the nearest point at Kakdwip.
The hovercrafts completed evacuating all the 511 pilgrims onboard both the ferries by 1300 hrs on 16 Jan 23.
The Indian Coast Guard during the annual "Ganga Sagar Mela" which was held from January 08-16, deployed sea borne units at various strategic locations to ensure the safety & security of personnel during the Mela.
Two Hovercrafts carried out extensive shallow water patrol to provide safety and security cover round the clock.
---