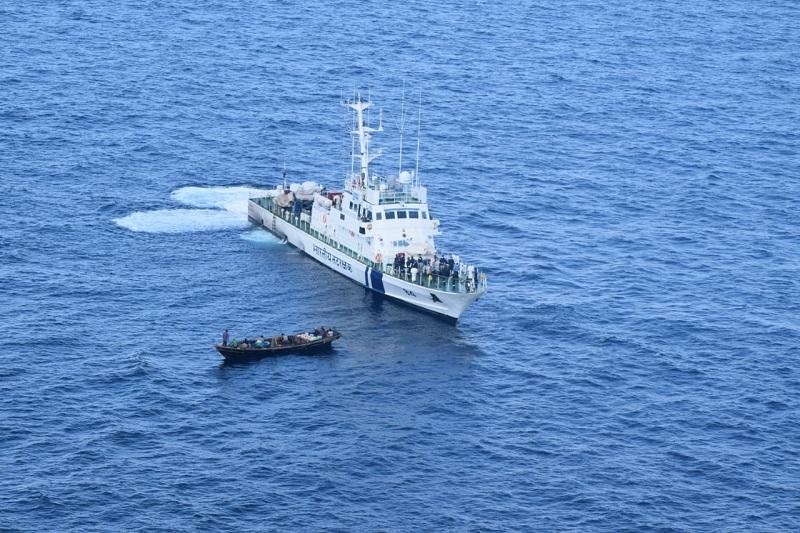 New Delhi: In a swift sea-air coordinated operation, the Indian Coast Guard on Saturday apprehended one Burmese fishing boat with 12 poachers illegally fishing in Indian waters approximately 14 nautical miles west of Rutland Island.
The boat was first sighted by Coast Guard helicopter on maritime surveillance, the boat did not respond on VHF.
On receipt of the information, Indian Coast Guard Maritime Reconnaissance aircraft and Indian Coast Guard Ship Rajkiran, on patrol, were immediately diverted for investigation.
On reaching the area, CG aircraft vectored the Indian Coast Guard Ship Rajkiran to intercept the boat.
The boat increased speed and tried evasive manoeuvres to avoid apprehension. However, the Coast Guard ship successfully intercepted the vessel along with its crew. On boarding by ICG team, the boat was found to be of Myanmarese origin having 12 crew onboard.
The Burmese boat was engaged in illegal fishing in the Indian exclusive economic zone. The boat and the crew were escorted to Port Blair and handed over to A&N Police for further investigation.
The Coast Guard PRO added that Coast Guard ships and aircraft are on patrol 24/7, monitoring activities in the Indian EEZ and protecting the sovereign rights of our country within the maritime zones.
In case of any violations of the Indian laws and regulations, Indian Coast Guard units promptly take action against the defaulting vessels.
The Indian Coast Guard maintains round-the-clock vigil to thwart any illegal activity in EEZ.
---