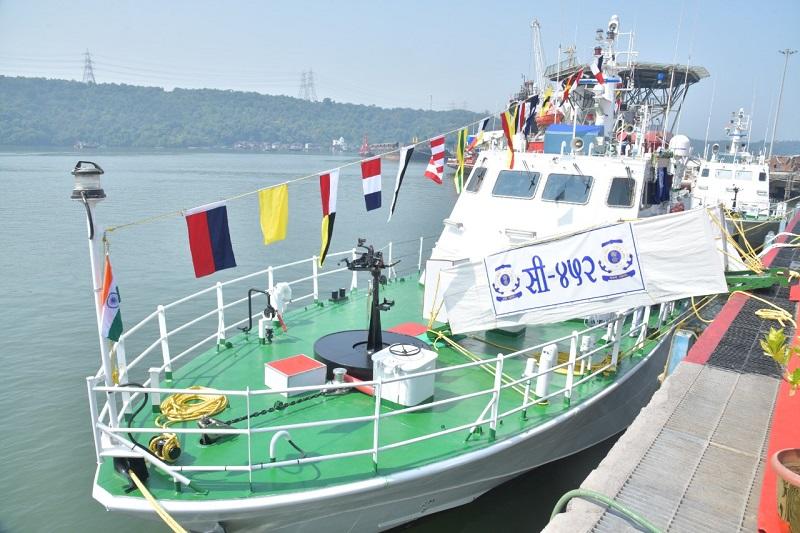 New Delhi: Western Seaboard commander Additional Director General Rajan Bargotra on Tuesday commissioned Indian Coast Guard Ship C-452, the 52nd ship in the series of 54 Interceptor Boats at Ratnagiri through Video Conference.
On the occasion, Coast Guard Region West Inspector General AP Badola Commander was also present.
Equipped with state-of-the-art sensors including navigational and communication systems, the ship is capable of operating in tropical conditions and proceeds at a speed of 45 knots, Indian Coast Guard PRO Comdt Rahul Sharma said.
Designed and built indigenously by Larsen and Toubro Shipyard Limited in Surat, the ship is 27-meter-long with displacements 105 tons and has an endurance of 500 NM at economical speed of 25 Knots.
Primary role of the ship would be undertaking multifarious tasks such as anti-smuggling, maritime surveillance, interdiction and Search and Rescue, he said.
The ship has a complement of 01 Officer and 14 Enrolled Personnel.
The 12.7 MM heavy machine gun is the main armament of the ship.
"The Commissioning of ICGS C-452 will enhance the Indian Coast Guard's operational capability to discharge the multifarious tasks. It will help Coast Guard to check illicit activities including infiltration, smuggling and poaching in Indian waters," Comdt Sharma said.
ICGS C-452 joining the Coast Guard Fleet will be based at Jaigarh in Ratnagiri.
The ship is commanded by Asst Commandant Amogh Shukla.
This will be the fifth ship/boat under administrative control of ICGS Ratnagiri and third of its type at Ratnagiri.
---