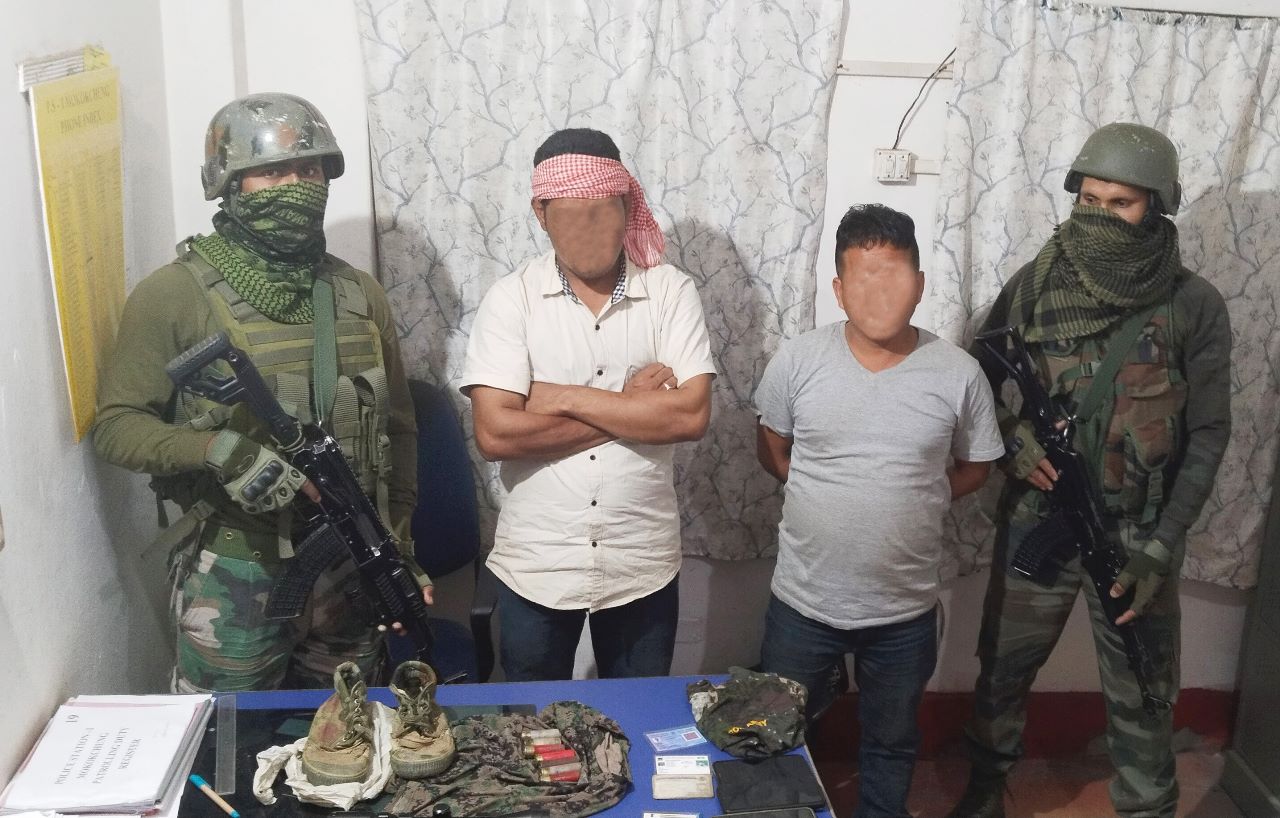 Assam Rifles soldiers with two apprehended NSCN(IM) militants in Nagaland. (Photo: Assam Rifles)
Kohima: The Assam Rifles apprehended four active National Socialist Council of Nagaland belonging to two different factions of the militant group operating in the northeast. The four were nabbed within a span of two days from Nagaland and Arunachal Pradesh.
In the first incident, two NSCN cadres belonging to the Isak-Muivah faction (NSCN(IM)) were apprehended from the New Camp general area in Nagaland's Mokokchung District, on April 14.
In a statement, the Assam Rifles said: "Based on confirmed input regarding movement of active cadres of NSCN(IM) astride Mokokchung-Mariani Road, threatening local civilians and carrying out extortion activities, an operation was launched and mobile vehicle checkpost was established to apprehend these cadres. The team intercepted a Maruti Alto. On being challenged the occupants fled and entered into a wooden temporary hut. The location was surrounded and on thorough search of the wooden house was done, two cadres of NCSN(IM), namely, self-styled Sergeant Major Imkongtiba and self-styled Sergeant Major Phamching, along with two weapons and live ammunition were apprehended."
The force further said it also recovered "war-like stores". The two along with the seized weapons have been handed over to Mokokchung Police for further investigations.
In the second incident, the Assam Rifles apprehended two active overground workers of NSCN's Khaplang-Yung Aung faction (NSCN(K-YA)) in Arunachal Pradesh's Tirap district in a village called Khanu, on April 16, 2023.
The Assam Rifles said that it carried out a joint operation with the Arunachal Pradesh Police after receiving specific inputs. A search cordon was laid, and a search operation was launched, which led to the arrest of the two cadres. The force said an investigation was underway.
---