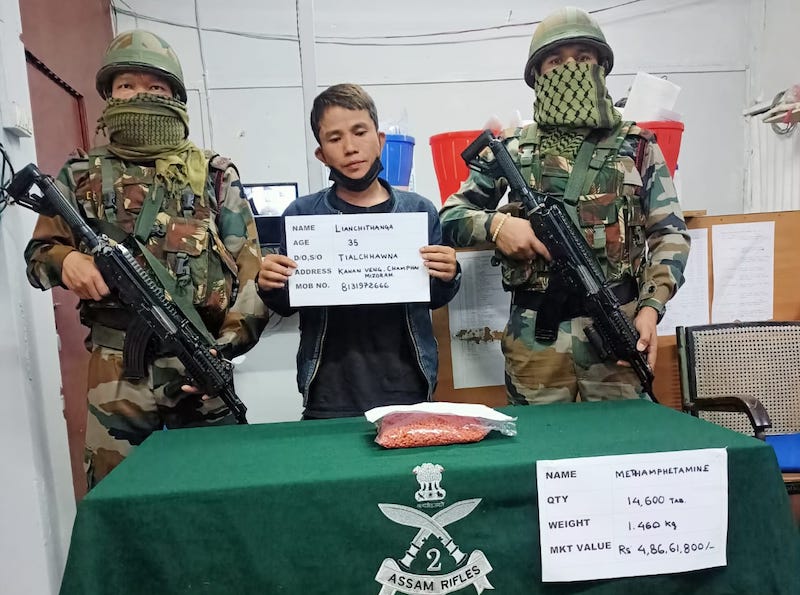 Assam Rifles soldiers pose with a suspected smuggler and seized meth tablets near Aizawl. (Photo: Assam Rifles)
Aizawl/Guwahati: The Assam Rifles busted a series of high-stake smuggling attempts in the last one week in Mizoram's Champhai district, which has become notorious as a smuggling hub in recent times. Although the paramilitary force has been on the forefront of anti-smuggling operations in the states bordering Myanmar and had successes almost every week, the last week had been particularly noteworthy.
On April 20, the Serchhip Battalion of 23 Sector Assam Rifles, recovered 509 grams of heroin of Grade No 4 worth ₹2.54 crore in the general area of the land custom station in the border town of Zokhawthar in Mizoram's Champhai district. The operation was carried out by a combined team of the Assam Rifles and the Champhai custom department after receiving specific information on the smuggled contraband.
Officials said the approximate value of the heroin seized is around ₹2,54,50,000 in Indian currency.
The seized consignment was hidden in a compartment of an unattended refrigerator.
Just two days after this haul, the Assam Rifles, along with the customs department, Champhai, carried out another successful raid and recovered 240 bags of areca nuts (supari) in the general area of Murlen track junction in Champhai district. The operation was carried out after the Assam Rifles and the Champhai's customs department's preventive force received specific information about the smuggled consignment at a hidden location near the Murlen village's track junction near the forest area of the Murlen National Park.
Officials estimate that the seized cache of areca nuts is worth around ₹1,34,40,000 in Indian markets.
Within 24 hours, on April 23, the Assam Rifles carried out yet another successful operation along with the Champhai customs department against areca nut smugglers in Champhai district and recovered 499 bags of contraband areca nuts. Officials estimate the seized areca nuts to be worth around ₹2,79,44,000.
On the same day the Assam Rifles carried out another raid along with the state CID's special narcotics police in the Folkland general area at state capital, Aizawl, and recovered a huge cache of methamphetamine (meth) tablets. In this operation, they apprehended one suspected smuggler as well.
The recovered cache of meth tablets is believed to be worth ₹4,86,61,800. The seized consignment has been handed over to Champhai customs department for further legal proceedings.
The relentless smuggling of contraband, especially drugs, is a major cause of concern for Mizoram. As India Sentinels reported earlier, the frequency of such seizures by the Assam Rifles in partnership with various agencies, especially the Champhai customs department, have increased.
Recently, the Assam Rifles along with the Champhai customs department had seized a large quantity of smuggled foreign cigarettes and alcohol.
---