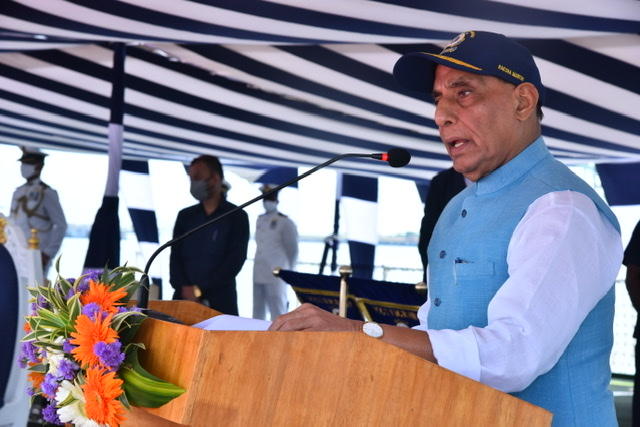 Chennai: Defence Minister Rajnath Singh has commissioned indigenously built Indian Coast Guard Ship 'Vigraha' in Chennai on August 28.
Terming it an important step towards achieving 'AatmaNirbhar Bharat', he said the ship is a perfect example of a successful partnership between public and private sectors to realise the dream of self-reliant India as envisioned by Prime Minister Narendra Modi and also a reflection of the significant improvement in India's coastal defense capability.
Saying that public-private partnership is the way forward to achieving 'Aatmanirbhar Bharat', he highlighted that for the first time in the history of Indian defence, contracts for not one or two, but seven vessels have been signed with a private sector company. And more importantly, within seven years of signing this agreement in 2015, not only launch but also the commissioning of all these seven vessels has been completed today.
On the changing global security environment, Singh stated that countries around the world are strengthening their military power and the Government, through various reforms, is ensuring that India is not left behind.
"We are leaving no stone unturned to develop a strong & powerful military and a self-reliant defence industry," he stressed. He listed out some of the reforms including simplification of the process of licensing in the defence sector, accelerating the AoN and RFP processes, emphasizing on exports, encouraging private sectors, establishing defence corridors, promulgation of the new Defence Acquisition Procedure 2020.
Singh exuded confidence that due to these reforms India will soon become a defence manufacturing hub which will cater to not just the domestic needs but to the whole world.
He reiterated the Government's resolve to move in that direction on the 75th anniversary of Independence that is being celebrated as 'Azadi ka Amrit Mahotsav' across the country.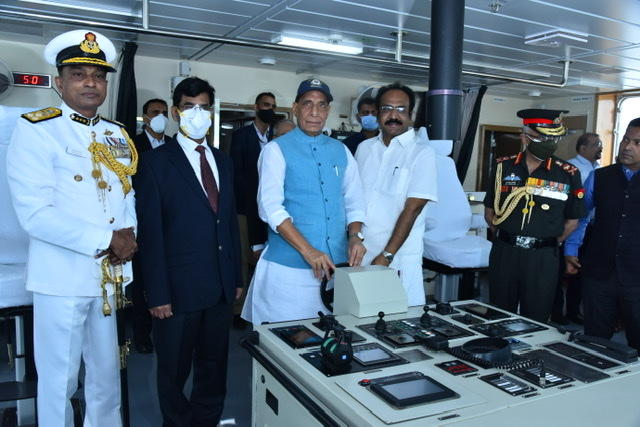 Saying that the economic, political and trade relations between countries are constantly fluctuating, the minister stressed that India cannot remain untouched by these developments as "our interests are directly linked to the Indian Ocean".
He described the Indian Ocean region as a key route not just for India but for the entire world as it is home to more than two-thirds of the oil shipments, one-third of bulk cargo and over half of container traffic.
With the continuously changing regional scenario, Singh emphasised the need to remain vigilant at all times. "We, as a nation, must keep our guards high during these times of uncertainties and upheavals around the world," he said.
He lauded the efforts of Coast Guard towards realising the vision of SAGAR (Security and Growth for All in the Region) envisaged by the Prime Minister with focus on spirit of friendship, openness, dialogue and co-existence with the neighbours with keen sense of duty as its core.
ICGS Vigraha will be based at Visakhapatnam and operate on India's Eastern Seaboard under the Operational and Administrative Control of the Commander, Coast Guard Region (East).
ICGS Vigraha is commanded by Commandant PN Anoop has complement of 11 Officers and 110 men.

---