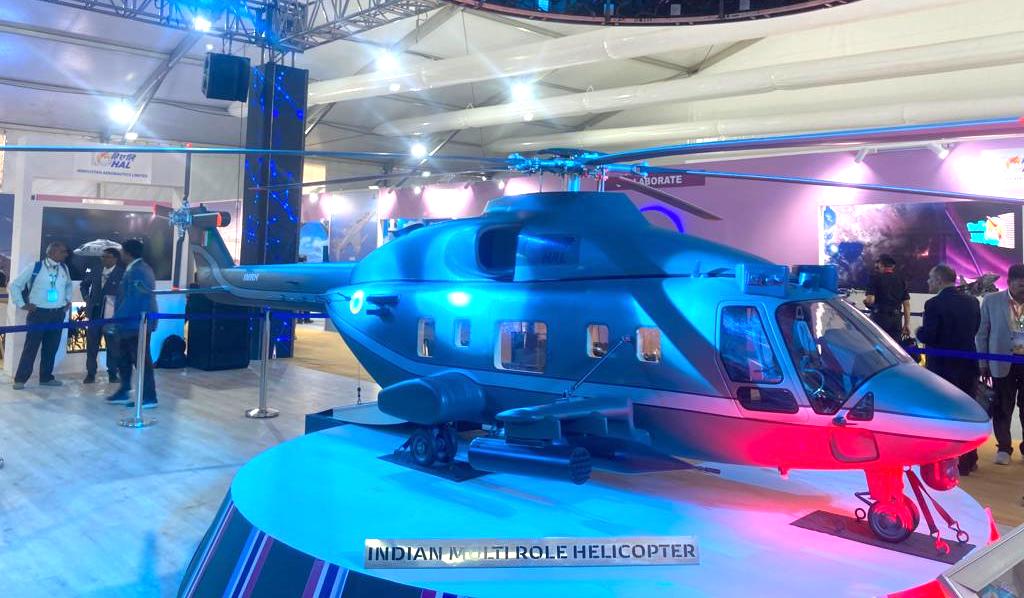 A model of the HAL's IMRH displayed at Aero India – 2023. (Photo: Palak Sharma/India Sentinels)
Bengaluru: The state-owned aircraft maker Hindustan Aeronautics Limited said it will roll out the prototype of India's first indigenously built multirole helicopter in the next four years. Talking to reporters during the ongoing Aero India – 2023 show in the city's Yelahanka airbase, HAL's chief design manager Abdul Rashid Tajar revealed this, on Monday.
He said the HAL has completed the review of the preliminary design and was now waiting for government funding to carry out the developmental process of the new class of indigenously made choppers, which HAL has initially named as Indian Multi-Role Helicopters or IMRH.
The new chopper will replace the foreign-origin multirole helicopters as they are being phased out. So far, India has been procuring such a category of helicopters or manufacturing them in India under licence from foreign original equipment manufacturers (OEMs), like Russian Mil Moscow Helicopter Plant's Mi-17. These choppers are planned to be decommissioned from 2028-2029.
---
Read also: HAL to manufacture advanced trainer HLFT-42 for future warplanes
---
Talking to reporters, Tajar said the chopper will be made for the Indian Air Force and the Indian Army. It will have the capability to land and take off from an altitude of five kilometres, a first in its class of helicopters.
He said the IMRH will take about four years to design and around eight years for the design and development cycle to be completed, adding that the HAL would be ready with the design and development of the chopper in eight to 10 years.
Tajar also said the chopper can be used in transport, search and rescue, and combat roles. He said it can carry 24-36 troops and will be able to carry out roles like air maintenance, combat search and rescue, humanitarian assistance and disaster relief, and the casualty evacuation. On its armament, Tajar said the chopper will have a limited armament capability. It will be equipped with air-to-air missiles, rockets, podded guns, and a 7.62mm gun, and a 12.7mm gun. It will also have an electro-optical pod.
The chopper will weigh 13 tonnes and can carry a weight of 4.5 tonnes at sea level and 2,000 kilograms at high altitude. The cost of one unit of this helicopter will be around ₹300 crore, Tajar said.
Tajar, however, said the chopper will not be for the Indian Navy. He informed that a programme for a deck-based chopper for the Navy is already on, with the design being in the initial stage currently. He also said that the HAL and the Navy are yet to come to an understanding on the Navy's chopper requirements, although negotiations were ongoing between them.
It may be noted that HAL's IMRH programme got a boost when French engine maker Safran entered a joint venture with it for the development, production, sales, and support for helicopter engines.
---