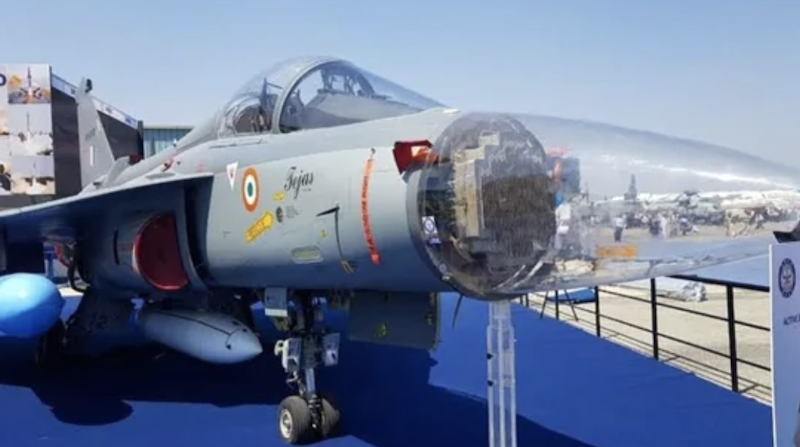 A display of an Uttam radar fitted on a transparent nose cone of Tejas. (Photo via Twitter)
Bengaluru: The Defence Research and Development Organization said all Indian Air Force and Indian Navy fighter jets will be equipped with the indigenously designed and developed Uttam active electronically scanned array (AESA) radars in the next two years. BK Das, DRDO's director general of electronics and communications systems, told reporters, on Thursday.
He also said the first aircraft to get the Uttam radar system would be the Hindustan Aeronautics Limited-made light combat aircraft (LCA) Tejas MK1. The first set of Tejas jets will be fitted with this system in the next six months. After LCA Tejas MK1, the fighters, like the Sukhoi-30MKI and Mig-29 will be fitted with the radar system.
Das also informed that the process of integrating the Uttam radars on these fighters would begin by 2025.
Highlighting the radar's superiority over its contemporaries, Das said, "Uttam is an active electronic surveillance radar (ESR). During scanning it (the radar) doesn't have to move but the (radar's) beam moves and it captures the data. Now, it's a configurable radar that has been flown in the LCA and it has outperformed all its conventional competitors around the world. So, all our platforms whether it is the LCA (Tejas Mk1) or Mk2 or the AMCA (advanced medium combat aircraft) or the TEDBF (twin-engine deck-based fighter), all of them are going to be integrated with Uttam. Not only that, all our Russians and other fighter aircraft which we have, the radar will be integrated."
He also said there would be "enough opportunities" for Uttam's export in the future, while adding that "several countries have shown interest in this system."
He also said that the LCA Mk2 will also be fitted with it. It is expected that the first prototype of LCA Mk2 will be rolled out in February 2024 and first flight by 2025. Last year, the DRDO had formally completed transfer of technology for its production to HAL.
It may be recalled that the defence ministry placed a ban on the import of such radar systems. It means, the services will have to procure such radars from Indian manufacturers only.
---