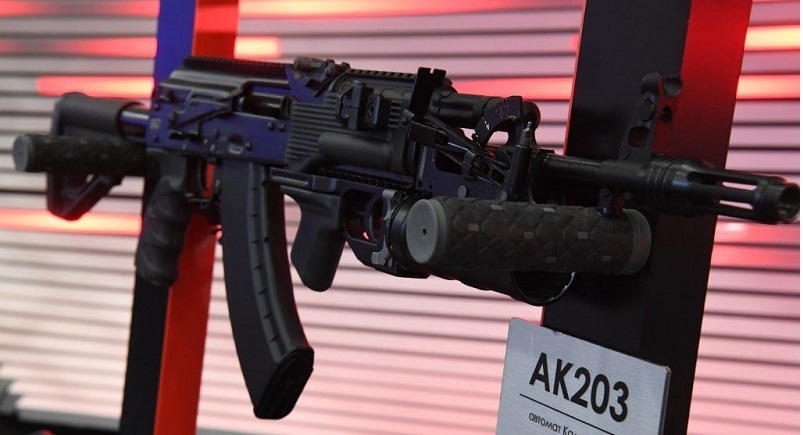 New Delhi: The Indo-Russian joint venture, Indo-Russian Rifles Private Limited (IRRPL), has started the manufacturing of AK-203 assault rifles in Uttar Pradesh's Amethi-based Korwa Ordnance Factory. With this announcement, India becomes the first country to manufacture AK-200 series assault rifles outside Russia.
In March, the Indian Army would receive the first lot of 5,000 AK-203 assault rifles. In the later stage, the assault rifles could also be given to the paramilitary forces.
Sergey Chemezov, director general of Rostec, said: "With the launch of series production of Kalashnikov AK-203 assault rifles, high-quality, convenient and modern small arms will begin to enter service with India's defence and law enforcement agencies."
Alexander Mikheev, director general of Rosoboronexport, has been quoted in the official statement: "Korwa Ordnance Factory in Amethi, Uttar Pradesh, has produced the first batch of 7.62mm Kalashnikov AK-203 assault rifles. The beginning of deliveries to the Indian Army is expected soon."
He also said that the joint venture will be able to export its products to third countries.
The joint venture company plans to include 100 per cent localization of the production of the legendary Russian assault rifles in India.
The plans include increasing production as well as modernizing the facilities to manufacture advanced rifles which will be based on the Kalashnikov assault rifle platform.
Indian Army
At the annual press conference ahead of 75th Army Day had said that the first batch of 5,000 rifles (AK-203) will be received in March 2023 with around five per cent indigenous content and another 65,000 rifles with 17 per cent indigenous content will be delivered over the next 32 months.
---