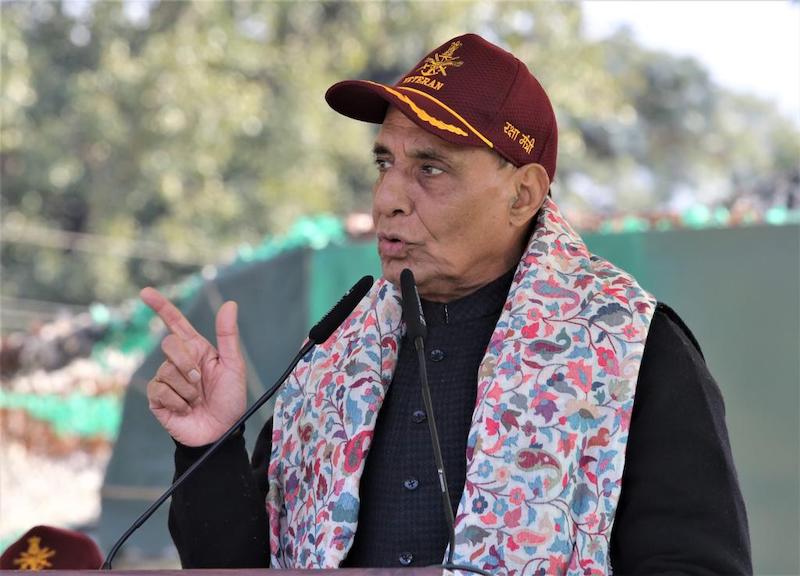 Rajnath Singh. (Photo: Defence ministry)
Bengaluru: The defence minister, Rajnath Singh, while lauding the armed forces for adapting to the constantly evolving times and dealing with the challenges with patience and bravery, exhorted them to further develop their capabilities and implement the lessons learned from the ever-evolving global security scenario, including the Ukraine war, on Sunday. He said this while addressing the "Shaurya Sandhya" function as the event's chief guest to mark the 75th Indian Army Day in Bengaluru.
Singh commended the armed forces for ensuring the territorial integrity of the country and unwavering determination in dealing with challenging situations. He said, "Our forces have successfully faced all the challenges, including those at the western and northern borders. They have upheld the country's rich tradition with unmatched bravery, commitment, and sacrifice."
Speaking at the #ArmyDay event in Bengaluru. https://t.co/9cJiEVlPVy

— Rajnath Singh (@rajnathsingh) January 15, 2023
The defence minister recalled the bravery of India's armed forces during 1962, 1965, 1971, 1999 wars and the recent incidents in eastern Ladakh's Galwan valley and Arunachal Pradesh's Tawang sector. He said the spirit and bravery of the soldiers has not only enhanced India's stature around the world but has also increased faith in the hearts of all Indians. He said all the three services – Army, Navy, and the Air Force – have always discharged their duties with efficiency from time to time, including humanitarian assistance and disaster relief (HADR) missions. He said the armed forces have been a reliable partner not only for India, but also for friendly countries.
"Over the years, there has been a significant change in every field - from society, politics to economy. Security challenges have also witnessed that change. Not only are they evolving with time, the pace of that change is also increasing rapidly. Drones, underwater drones, and weapons powered by artificial intelligence are being used today. This era has become technology intensive. Latest technological advancements have increased these challenges," Singh said.
On the technological advances made by modern militaries around the world, Singh said urged India's armed forces to work on their strategies, tactics, and policies keeping the future challenges in mind.
"Every today becomes tomorrow's yesterday. Any military or organization, which prepares itself only according to the present soon becomes old and ineffective. It is imperative to work on tomorrow, the day after and the next 25–30 years. This will ensure our security and prosperity. Let us together build a developed and secure India," the defence minister said.
The "Shaurya Sandhya" event was organized as part of the 75th Army Day celebrations held in Bengaluru. It was the first time that the Army Day was held outside New Delhi to increase the participation of people, especially the youth in "Knowing their Army".
---