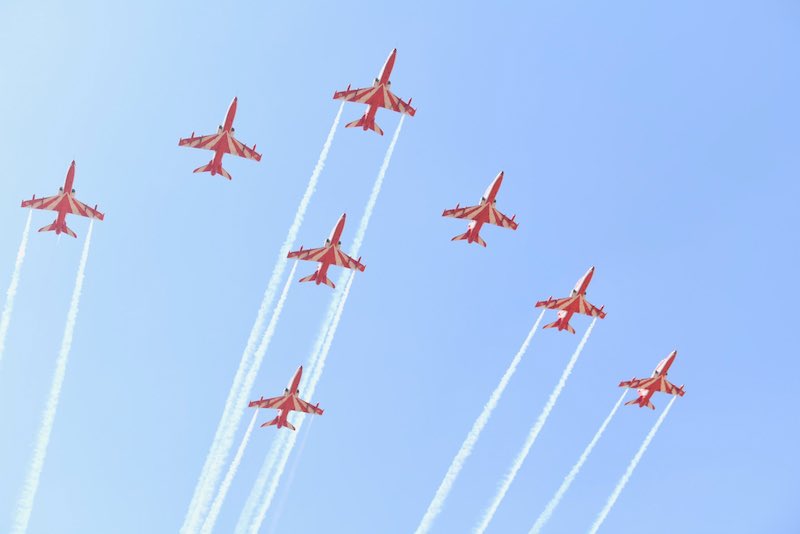 Indian Air Force's Surya Kiran aerobatics teams during a display during the inauguration of Aero India – 2023. (Photo via Twitter)
Bengaluru: Aero India – 2023 got off to a flying start at Bengaluru's Yelahanka airbase, on Monday. The prime minister, Narendra Modi, inaugurated the 14th edition of Asia's biggest air show and aviation exhibition on a bright morning with blue skies.
The theme of this year's Aero India is "The Runway to a Billion Opportunities".
The Indian Air Force chief, Air Chief Marshal Vivek Ram Chaudhari, led the Gurukul formation during the flypast at the inaugural ceremony.
During his address, the prime minister compared new India to a fighter pilot who "thinks fast, thinks far, and takes quick decisions". Highlighting the potential of "Aatmanirbhar Bharat" (self-reliant India), he said how India's move towards becoming self-reliant has opened "new alternatives and opportunities for the world".
He said, "India will move towards becoming one of leading defence exporters in the world." He then said the Aero India event has developed as a reflection of India's strength and focus on the defence sector.
---
Read also: Full details of Aero India – 2023, Asia's biggest air show
---
The prime minister then highlighted India's indigenously made fighter LCA Tejas, aircraft carrier INS Vikrant, and the recently inaugurated helicopter factory at Tumakuru as "examples" of his government's "Make in India" initiative's strength.
Asia's biggest Air Show #AeroIndia2023 Day 1 Flying display! pic.twitter.com/ySlwWhvPYG

— Aero India (@AeroIndiashow) February 13, 2023
Modi also said that India, which was the world's biggest defence importer for decades, was now exporting defence equipment to 75 countries. He said India has turned around its defence sector in the last 8–9 years, and it was just the beginning. He said India expects to export defence equipment to the tune of $5 billion by 2024-25.
Speaking on the occasion, the defence minister, Rajnath Singh, said, "India has become the fifth largest economy in the world. It is well on course to become the third-largest economy in the next four to five years. India's G20 presidency this year is also a reflection of the country's growing stature." Later, during a conference with industry leaders attending the event, Singh said India does not want to remain an assembly workshop. Manufacturing cutting-edge military products was the need of the hour to boost "Aatmanirbharta" (self-reliance).
He assured them that the government is committed to "fully harness the energy, entrepreneurial spirit and capability" of the private sector in the defence production.
---