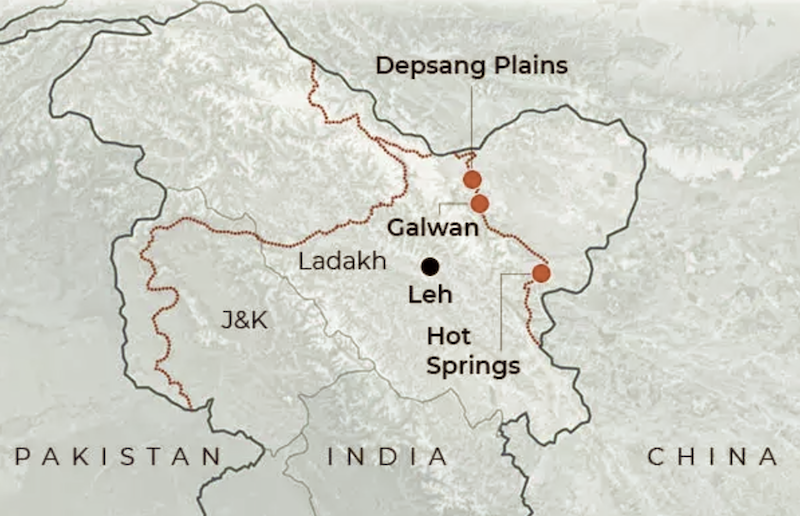 Map showing location of Depsang Plains. The red line on the left depicts the line of control (LoC) with Pakistan and the same on the right depicts the line of actual control (LAC) with China. (Map not to scale)
New Delhi: China has laid down its terms before India for disengagement of its troops with Indian soldiers in eastern Ladakh's Depsang, where the Indian Army has been in a tense stand-off with China's People's Liberation Army since 2020. This development has taken place after protracted military-to-military and diplomatic talks for almost three years failed to break the ice after Chinese troops encroached into Indian territory and squatted on a large swath of land.
According to an official from the Indo-Tibetan Border Police's intelligence wing, the PLA has demanded the creation of a 15- to 20-kilometre buffer zone inside territory that India claims in the strategic Depsang Plains. The official said the Chinese side came up with the demand after rejecting India's proposal that it was willing to create a buffer zone of 3–4 kilometres inside Indian territory if China agrees to disengage its troops from the area.
Talking to reporters, the official said, "The Chinese want a buffer zone with a width of 15–20 kilometres inside Indian territory as part of the disengagement process from the Depsang Plains. However, during negotiations, India rejected the demand and instead agreed to a buffer zone of three to four kilometres deep, but the Chinese refused to budge."
The ITBP official said the PLA made the latest demand during the 18th round of corps commander-level talks, which took place in April, and repeated the same during subsequent lower-level military-to-military talks.
---