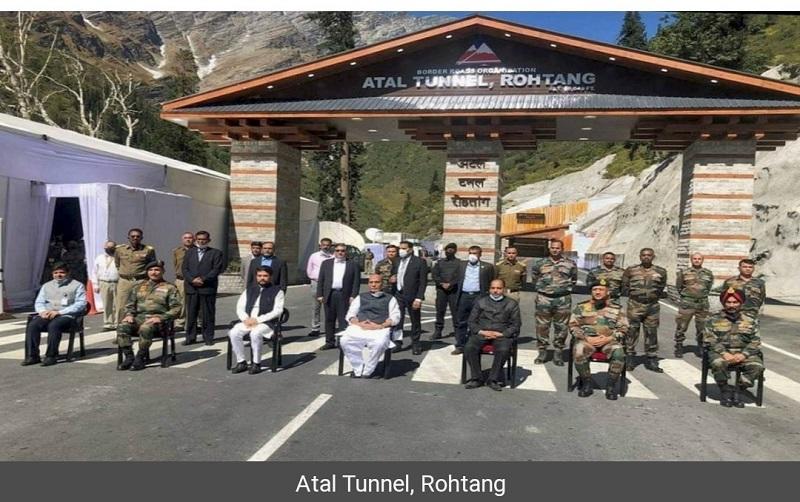 Atal Tunnel in Rohtang
Rohtang: Defence Minister Rajnath Singh on Saturday said that the strategic Atal Tunnel is dedicated to troops deployed on borders and local people.
"This is a strategically important tunnel. This tunnel is dedicated to troops deployed on the border, this tunnel is dedicated to people living in these areas," Mr Singh said after its inauguration.
"With this tunnel, tourism would grow. When tourism would grow, the jobs to be generated," the defence minister said.
This tunnel is very important with in socio-economic case, he added.
यह Tunnel समर्पित है उन स्थानीय नागरिकों को, जिन्होंने कठिन परिस्थितियों में भी इसके निर्माण में अपना बहुमूल्य योगदान दिया है। साथ ही 'सीमा सड़क संगठन' के अधिकारियों और जवानों को, जिन्होंने राष्ट्र को जोड़ने में अपना जीवन समर्पित कर दिया: श्री @rajnathsingh

— रक्षा मंत्री कार्यालय/ RMO India (@DefenceMinIndia) October 3, 2020
Talking about Prime Minister Narendra Modi's connection with Himachal Pradesh, he said, "When Atal Behari Vajpayee announced this, you were the organizing secretary of Himachal Pradesh and now when it is being inaugurated you are here to inaugurate."
Prime Minister Narendra Modi on Saturday inaugurated the strategic world's longest Atal Tunnel in Rohtang of Himachal Pradesh.

On the occasion, Defence Minister Rajnath Singh, Himachal Pradesh Chief Minister Jairam Thakur and Union Minister of State for Finance Anurag Thakur were also present.

The 9.02 Km long tunnel connects Manali to Lahaul-Spiti valley throughout the year.

Earlier, the valley was cut off for about 6 months every year due to heavy snowfall.
---