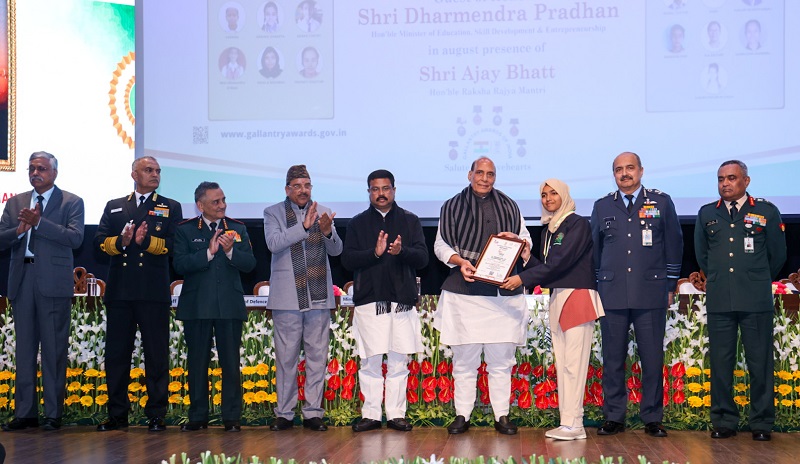 Rajnath Singh at Veer Gatha winners felicitation event in Delhi (Photo: Defence Ministry)
New Delhi: As part of Azadi ka Amrit Mahotsav, the defence minister, Rajnath Singh felicitated 25 winners of Veer Gatha 2.0, on January 25, on the eve of the Republic Day 2023 in the national capital.
The winners were awarded with a cash prize of Rs 10,000, a medal and a certificate, in the presence of Minister of Education Dharmendra Pradhan and MoS Defence Ajay Bhatt.
Chief of Defence Staff General Anil Chauhan, Chief of the Air Staff Air Chief Marshal VR Chaudhari, Chief of the Naval Staff Admiral R Hari Kumar, Chief of the Army Staff General Manoj Pande, Defence Secretary Giridhar Aramane were also present.
More than 100 National Cadet Corps (NCC) cadets and students from Army Public Schools and Cantonment Boards were in attendance. Also, teachers are students from over 500 schools joined in virtual format.
On the occasion, Rajnath Singh appreciated their efforts for their bravery, zeal and creativity, and expressed confidence that the young generation will provide a new and better direction not only to themselves but also to the society and the Nation.
Applauding the role of Veer Gatha in inspiring values of patriotism in the young students, the minister said, projects like Veer Gatha will play a significant role in infusing values of morality and bravery along with education among students.
Highlighting the growing popularity of Veer Gatha, he said, in such a short span of time this project has gained immense popularity, and has become a movement in itself.
"Last year there were 8 lakhs participation, whereas this time the number of these entries has crossed 19 lakhs. Within a small span of time, it has been able to reach millions of children. This is how a movement occurs," he added.
The defence minister also said: "Integration is the first requirement for any construction, be it a building, a society, an organization, or a nation. Without the process of integration, nothing can be built. The project is connecting the children across the country with the long-standing heritage of Indian-ness, and is building their personality. The better we build the personality of the children, the better and stronger the nation-building will be."
Rajnath Singh further added that great personalities like Mahatma Gandhi, Chandrashekhar Azad, Khudiram Bose, Ashfaq Ullah Khan kept on speaking the truth throughout their life, no matter what cost they had to pay for it.
He also suggested that such felicitation should also be organised at state and district level as well, so that the project reaches out to more number of people.
---