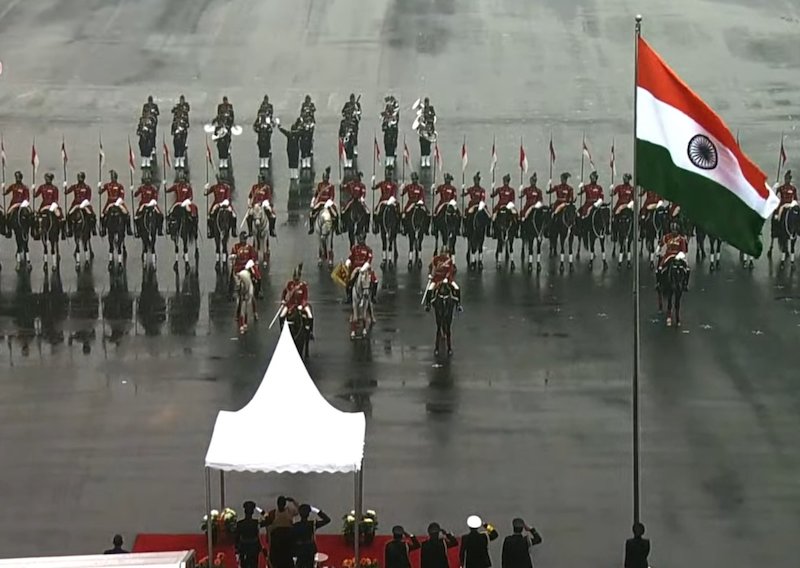 President Droupadi Murmu taking the salute at the beginning of the Beating Retreat.
New Delhi: The 74th Republic Day celebrations ended with the Beating Retreat ceremony at the capital's Vijay Chowk, on Sunday evening, amid rain. The event witnessed various military, central armed police, and state police bands playing 29 mesmerizing tunes, with some newly introduced ones based on Indian classical music.
President Droupadi Murmu, who is also the supreme commander of India's armed forces, took the salute. Vice-President Jagdeep Dhankhar, Prime Minister Narendra Modi, and other high-ranking government officials were among the dignitaries who attended the ceremony.
---
Read also: IAF flypast steal the show in 74th Republic Day parade
---
The ceremony started with the Massed Band's "Agniveer" tune, which was followed by the enthralling tunes, like "Almora", "Kedar Nath", "Sangam Dur", etc.
Indian Air Force's band played "Aprajey Arjun", "Charkha", "Vayu Shakti", and "Swadeshi", while the Indian Navy band played "Ekla Cholo Re", "Hum Taiyyar Hai", and "Jai Bharati".
The Indian Army's band played "Shankhnaad", "Sher-e-Jawan", "Bhupal", "Agranee Bharat", "Young India", "Kadam Kadam Badhaye Ja", "Drummers Call", and "Ae Mere Watan Ke Logon".
The bands ended their captivating display with "Sare Jahan se Acha".
The principal conductor of the ceremony was Flight Lieutenant Leimapokpam Rupachandra Singh. The Army Band was led by Subedar Major Diggar Singh, the Navy and Air Force band commanders were Master Chief Petty Officer M Anthoni Raj and Warrant Officer Ashok Kumar respectively. The conductor of the state police and CAPF bands was Assistant Sub-Inspector Prem Singh.
Naib Subedar Santosh Kumar Pandey led the Buglers' performance while Subedar Major Baswaraj Vagge led the Pipes and Drums band.
The ceremony was supposed to end with the country's biggest drone show with 3,500 indigenously built drones and a 3D anamorphic projection on the façade of North Block and South Block. However, the shows had to be cancelled because of rain.
---