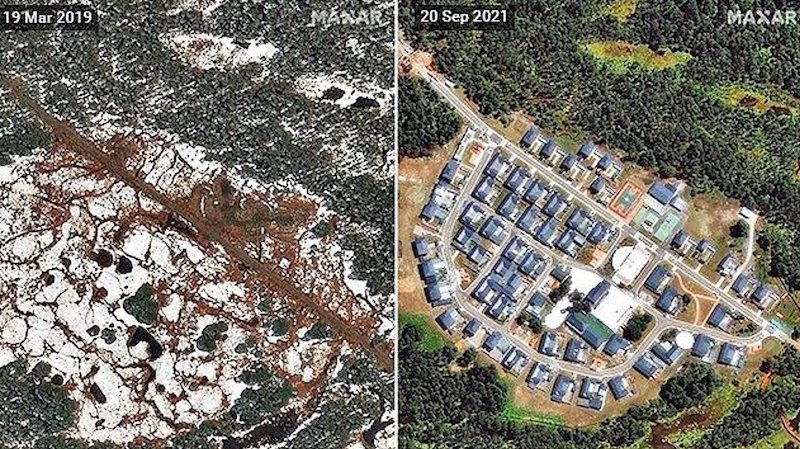 This two-photo combination shows an under-construction Chinese village, in 2019, and the fully built village, in 2021, inside Indian territory in Arunachal Pradesh. (Photo: Maxar/Twitter)
New Delhi: China is rapidly raising border settlements all along the line of actual control with India, India Sentinels has learned. According to some sources privy to this matter, China is building those settlements even in sensitive areas, some of which are a few metres across the undemarcated border.
The sources told India Sentinels that India has identified 628 such villages in the Tibetan Autonomous Region, with many of those villages being raised on the eastern sector, facing Arunachal Pradesh. Beijing seems to have picked sensitive regions from India's viewpoint to build these villages, which they call "xiaokang" in Chinese, like Tawang and Tulung-la. These two areas have 30 and 26 newly built villages respectively just across the LAC in China-controlled Tibet.
It may be recalled that China claims Tawang to be a part of South Tibet, and because of this, Beijing claims that the entire area of Arunachal Pradesh belongs to it. In 1959, the 14th Dalai Lama escaped to India by the Tawang route. On the other hand, in 1975, Chinese troops ambushed an Assam Rifles patrol and killed four soldiers in the Chumar area. Incidentally, that was the last time troops from either India or China had killed each other's troops before the 2020 Galwan valley clash, in which 20 Indian soldiers and an unknown number of Chinese soldiers died.
The sources further told India Sentinels that the Chinese have built villages in many other areas too, like the Kapeng Pass (Kapeng-la) in Arunachal Pradesh's Upper Siang district and Chumar. In Kapeng-la, they have built 11 such villages while they have built eight in Chumar.
They are also seen carrying out construction activities on their side near north and west Bhutan, which are very close to the LAC.
According to the sources, the Chinese started building these dual-purpose villages, which serve as both civilian and military infrastructure, after the 19th Chinese Communist Party Congress, which was held in October 2017. The sources said they have deployed surveillance equipment and created facilities to enable transborder movement of people, who share the same ethnicity and dialects.
It may be mentioned that under a 2005 India-China border agreement, New Delhi and Beijing agreed that the two sides shall safeguard the interests of their settled populations in the border areas. Therefore, these villages are also seen as a strategic move to claim Indian territories in a future border demarcation between the two countries.
India has been observing these villages with some degree of alarm, especially after China passed their "Land Border Law" in 2022. The law mandates the People's Liberation Army and their border-guarding forces to protect China's boundaries and provide security to its people and infrastructure within their territory. However, there have been many instances where China settled nomadic tribes on the Indian side of the border by – what is called – "salami-slicing" Indian territory and built permanent infrastructure on it when India was not looking.
The sources said India is also building new villages near the border and upgrading the infrastructure, but China is way ahead of India in this matter and it would be difficult to catch up with them.
---