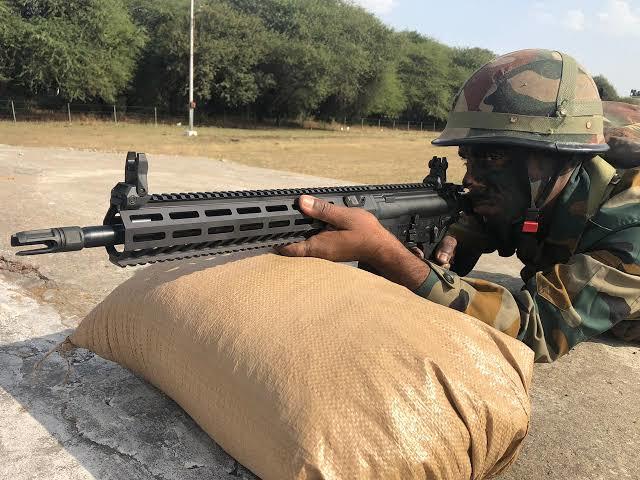 An Indian Army soldier training with a Sig Sauer rifle.
New Delhi: The Defence Acquisition Council, on Monday, approved the purchase of another 72,000 Sig Sauer assault rifles for the Indian Army from the United States. The deal is worth ₹780 crore.
The Army already received the first batch of 72,000 Sig Sauer assault rifles from the US earlier this year.
This comes at a time when Indian troops are in a tense face-off with Chinese troops at several points along the line of actual control in eastern Ladakh.
The Army had received the first lot of Sig Sauer assault rifles to boost its counter-terrorism operations. The troops under Udhampur-based Northern Command is currently using them.
India had acquired the rifles under the fast-track procurement programme.
These rifles are being acquired to replace the existing Indian Small Arms System (Insas) 5.56 x 45mm rifles. They are manufactured locally by the Ordnance Factories Board.
As per the plan, around 1.5 lakh imported rifles were to be used by the troops in the counter-terrorism operations and frontline duties on the line of control (LoC), the remaining forces would be provided with the AK-203 rifles, which are to be produced jointly by India and Russia at Amethi ordnance factory.
In March, the government placed an order of 16,479 light machine guns (LMGs) from Israel at a cost of ₹880 crore for the troops at frontline.
---