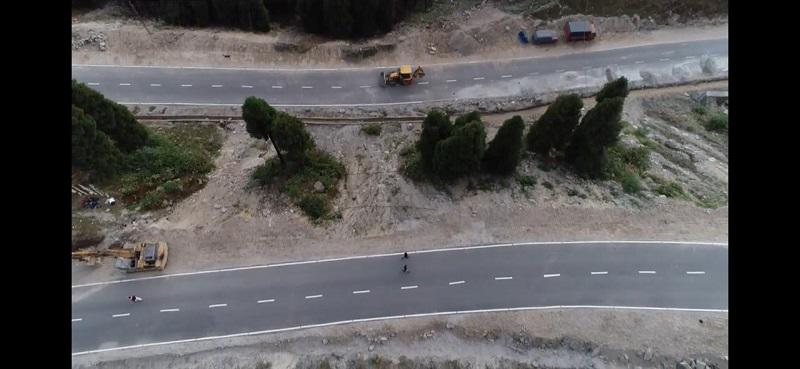 Darjeeling: Defence minister Rajnath Singh on Sunday inaugurated the Alternate alignment Gangtok-Nathula Road through video conferencing from Sukna-based 33 Corps headquarters.
"National Highway 310, connecting Gangtok to Nathu-la is a lifeline for people living along the borders in eastern Sikkim. The Border Road Organisation (BRO) has fulfilled the aspiration of people and the Army by building 19.5-km-long alternate NH 310," the defence minister office said in a series of tweets.
इस अवसर पर मैं, सिक्किम राज्य सरकार के योगदान की भी सराहना करना चाहता हूँ. राज्य के मुख्यमंत्री, उनके मंत्रीमंडल तथा अधिकारियों का योगदान प्रशंसनीय है. BRO को सड़क निर्माण के लिए शीघ्र भूमि अधिग्रहण, वन विभाग से मंजूरी और पत्थर खदान की स्थापना में आप लोगों का विशेष सहयोग मिला:RM

— रक्षा मंत्री कार्यालय/ RMO India (@DefenceMinIndia) October 25, 2020
"There were possibilities of landslide and sinking on old alternate route NH 310. The locals and the army had to face difficulties in travelling through this route during monsoon season. Now, they will not have to face such problems," it said.
"I would like to inform you that most of the border roads in Sikkim are being upgraded to double lane by the BRO. The work is in progress on 65-km-long road construction project and 55-km-long project is under planning stage in eastern Sikkim," the minister's office said.
Talking about the ''Bharatmala project'' in North Sikkim, he said that the construction of 225-km-long double lane between Mangan-Chungthang-Yumesamdong and Chungthang-Lachen-Jima-Muguthang-Naku La is planned. This work has been planned in 9 packages, whose estimated cost stands at Rs 5710 crore.
Further, he added that the sanction for package 1 will be done soon. ''For remaining packages, the DPR is in progress. Under this project, the far flunged areas of North Sikkim will be connected. This would not only be benefitted in the development of local, social and economic but the response time of army will also get a boost,'' he said.
''Under the guidance of the prime minister, infrastructures are being enhanced in north eastern states. The BRO has 8090-km-long road projects. Out of these, 5734-km-long road are in construction stage,'' Mr Singh said.
The minister was supposed to visit Sikkim in the morning to perform Shastra Puja near Nathu-la but he had to cancel his plan due to inclement weather.
शस्त्रपूजन भारत की सैन्य परम्परा का अभिन्न अंग है। आज विजयादशमी के पावन अवसर पर 'त्रिशक्ति कोर' के सुखना स्थित मुख्यालय में आयोजित शस्त्रपूजन समारोह में भाग लेने का सौभाग्य मिला। pic.twitter.com/L0qYVT9vJ3

— Rajnath Singh (@rajnathsingh) October 25, 2020
Earlier, he performed Shastra Puja - worshipping of weapons with the Indian Army troops at Sukna Army Camp in Darjeeling on the occasion of Vijay Dashmi.
Shastra Puja is a ritual performed by the Hindus annually around the time of Dussehra.
Last year, the minister had performed the puja in France while formally receiving the first Rafale fighter jet.
---