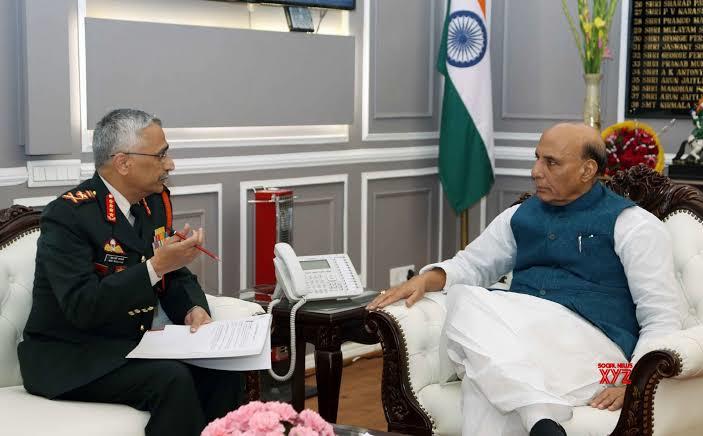 Gen MM Naravane (L) and Rajnath Singh.
New Delhi: Indian Army chief Gen MM Naravane on Friday is briefing the defence minister, Rajnath Singh, after he took stock of security scenario along line of actual control (LAC) in eastern Ladakh, wherein troops of India and China are engaged into border standoff since early May.
As per sources in the defence establishment, the army chief is briefing the defence minister about current situation on the border with China.
Singh has returned from Russia after holding bilateral meetings with Russian hierarchy and attending Victory Day parade on the occasion of 75th anniversary of Second World War.
Gen Naravane, who was on his 2-day visit to Ladakh, interacted with injured soldiers who are admitted into hospital in Leh. The soldiers got injured during a violent face-off between troops of two Himalayan neighbours.
During his visit, the army chief has also awarded commendation to soldiers who fought Chinese troops in the Galwan valley on June 15.
On June 15 clash, 20 Indian soldiers were killed by the China's PLA. However, the Chinese also suffered major casualties but they did not disclose any figure.
Amid ongoing border standoff, Russia has assured India that ongoing defence contracts will be maintained and taken forward in a shorter time.
The assurance from the Russian side was given to Singh who was on an official visit to Russia.
Describing India-Russia relations as one of "special and privileged strategic partnership'', Singh said, during his meetings with the Russian deputy prime minister, Yury Borisov, that India's defence relationship with Russia is one of its important pillars.
"I had an opportunity to review our defence relationship with the deputy prime minister, Yury Borisov, and I thank him for the honour for visiting me in this hotel, despite the restrictions of the pandemic. My discussions were very positive and productive. I have been assured that ongoing contracts will be maintained and not just maintained, in a number of cases will be taken forward in a shorter time. All our proposals have received positive response from the Russian side. I am fully satisfied with my discussions,'' Singh has said during his interaction with the media in Moscow.
---