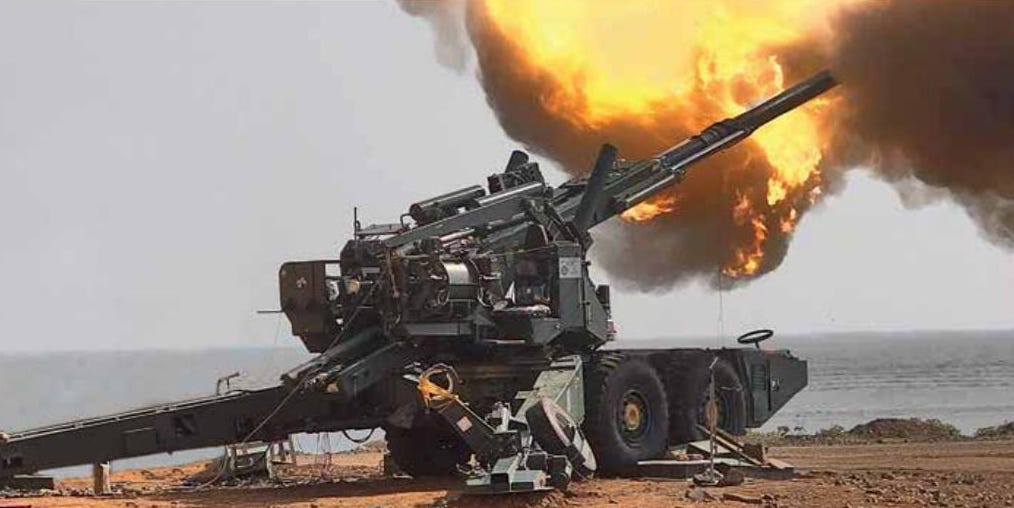 An ATGS during trials. (Photo: DRDO)
New Delhi: The defence ministry's Defence Acquisitions Council gave the initial nod (acceptance of necessity) for the procurement of 307 advanced towed artillery gun systems (ATAGS) for the Indian Army and 200 BrahMos supersonic cruise missiles with extended range for the Indian Navy's frontline warships. The total worth of these acquisitions is around ₹70,500 crore.
All these planned procurements will be under the "Buy (Indian-IDDM)" category, which means the procurements of these products will be from an Indian vendor that have been indigenously designed, developed, and manufactured with a minimum of 50 per cent indigenous content on cost basis of the total contract value. This is to give impetus to the government's "Atmanirbhar Bharat" (self-reliant India) initiative.
The ATAGS
The home-made 155mm/52 calibre advanced towed artillery gun system has been developed by the Defence Research and Development Organization (DRDO) with private sector companies Bharat Forge and Tata Advanced Systems as its production partners.
It is a large calibre gun system with the capability to program and fire future long-range guided munitions (LRGM) to achieve precision and deep strike.
These howitzers can be positioned in high-altitude regions along the line of actual control, where the Indian Army is engaged in a bitter stand-off with China's People's Liberation Army at several points.
Its induction is intended to augment or replace the 130mm M-46 Russian guns, which are currently being upgraded to 155mm, and the 155mm FH77B Swedish Bofors guns. It may be noted that these two gun systems have been in the Army's arsenal for over four decades.
In comparison to old weapon systems, the ATAGS is more lethal, easier to operate and has advanced system features, like self-propelled mode and an automatic ammunition handling system that can fire six successive rounds.
It has a maximum towing speed of 60 kilometres per hour while the elevation angle of the gun ranges from -3 degree to +72 degree. It can fire shells up to a maximum of 48 kilometres.
BrahMos with extended range
The 200 BrahMos supersonic missiles with extended range will be for the India Navy's frontline ships. The extended range of the missile is 450km, which is over 150km more than the initial range of the missile. The Indian Air Force has carried out several successful trials of this missile with extended range.
The India-Russia joint venture, BrahMos Aerospace Limited, which makes the missiles is now developing a hypersonic version of the missile, BrahMos-II, which will have a speed of Mach 7–8. It is expected to be ready for testing by 2024.
The company said it will start working on a version of the missile that will have a range of 800–900km.
---